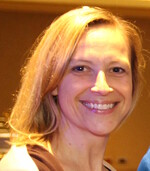 Contact Information
Phone: (703)-993-4337
Fax: (703) 993-2013
Email: sstribli (@gmu.edu)
George Mason University
Fairfax Campus
Thompson Hall 2506
4400 University Dr.
MS 4C2
Fairfax, VA 22030
Profile
Stacia Stribling is an Assistant Professor in the George Mason University Graduate School of Education's Transformative Teaching Master's Program. She received her Bachelors Degree from Mary Washington College and her Masters Degree from the IET Program at George Mason University. In 2010 Stacia completed her PhD in Early Childhood Education with a minor in Literacy at George Mason University. Her dissertation explored the use of critical literacy practices with kindergarten and second-grade students. Stacias public school experience includes eight years as a first- and second-grade teacher in Fauquier County, three years as a member of the Language Arts Council for Fauquier County Public Schools, and three years as the lead mentor teacher for Grace Miller Elementary School. Her research interests include early childhood education, critical literacy, teacher professional development, and multiculturalism. One of her passions is advocating for teacher research as an essential component of teacher professional development; she is a Consulting Editor for Voices of Practitioners, a teacher research journal published by the National Association for the Education of Young Children (NAEYC), and is the past Secretary/Treasurer of the Teacher as Researcher Special Interest Group of the American Educational Research Association (AERA). She has presented her research at national and international conferences and has published numerous journal articles and book chapters. In addition to her education background, Stacia holds a degree in music performance. She currently performs with the Piedmont Symphony Orchestra, the Woodbridge Flute Choir, and several school and community theaters.
Research Interests
Early Childhood Education,
Literacy
Teacher Professional Development
Critical Pedagogy
Issues of Multiculturalism and Social Justice
Recent Publications
Stribling, S.M., & DeMulder, E.K. (in press). Critical literacy in the second grade classroom: Processes and challenges. Critical Literacies: Theories and Practices.

Stribling, S.M., DeMulder, E.K., Barnstead, S., & Dallman, L. (in press). The teaching philosophy: An opportunity to guide practice or an exercise in futility? The Teacher Educators' Journal.

Baily, S., Stribling, S.M., & McGowan, C.M. (2014). Experiencing the "Growing Edge": Transformative teacher education to foster social justice perspectives. Journal of Transformative Education. Published on-line first, doi:10.1177/1541344614544373.

Stribling, S.M. (2014). Creating a critical literacy milieu in a kindergarten classroom. Journal of Language and Literacy Education. [Online], 10(1), 45-64. Retrieved from http://jolle.coe.uga.edu.

Stribling, S.M., & DeMulder, E.K. (2014). "Dear Sophia, I'm going to another world": Transforming literacy practices in early childhood. In Lawrence, S. (Ed.), Critical Practices in P-12 Education (pp. 118-141). Hershey, PA: IGI Global.

DeMulder, E.K., Stribling, S.M., & Day, M. (2014). Examining immigrant experiences: Helping teachers develop as critical educators. Teaching Education, 25(1), 43-64. DOI:10.1080/10476210.2012.743984

Stribling, S.M. (2013). A view of quality and ethics of teacher research in public schools. Voices of Practitioners: Teacher Educator Articles, 8(1), 1-8.

View, J.L., DeMulder, E.K., & Stribling, S.M. (2013). Developing empowering educational experiences through creative practices and teacher research. Proceedings: Conference on Higher Education Pedagogy.

View, J.L., Hanley, M.S., Stribling, S.M., & DeMulder, E.K. (2012). Journey from trepidation to theory: P-12 teacher researchers and creativity. LEARNing Landscapes, 6(1), 421-442.

Reybold, L.E., Lammert, J., & Stribling, S.M. (2012). Participant selection as a conscious research method: Thinking forward and the deliberation of emergent findings. Qualitative Research [Online First]. doi: 10.1177/1468794112465634

DeMulder, E.K., & Stribling, S.M. (2012). "A big door opened for us": Parents perceptions of comprehensive preschool. Contemporary Issues in Early Childhood, 13(4), 328-343.

Stribling, S.M., DeMulder, E.K., & Day, M. (2011). Reading the world: Supporting teachers professional development using community-based critical literacy practices. The Journal of Praxis in Multicultural Education, 6(1), 21-33.

Wood, D., DeMulder, E.K., & Stribling, S.M. (2011). Teacher development as deliberative democratic practice: A precursor to educating for democratic citizenship. In Factis Pax, 5(2), 235-257.

Day, M., DeMulder, E.K., & Stribling, S.M. (2010). Using the process of cultural reciprocity to create multicultural, democratic classrooms. In Salili, F., & R. Hoosain (Eds.), Democracy and Multicultural Education (pp. 237-262).Information Age Publishing.

View, J., DeMulder, E.K., & Stribling, S.M. (2009). Cultivating transformative leadership in P-12 schools and classrooms through critical teacher professional development. Journal of Curriculum and Instruction.

Stribling, S.M. (2009). Critical literacy: A building block toward peace. In Ndura-Ouedraogo, E., & Amster, R. (Eds.), Building Cultures of Peace (pp. 72-84).Cambridge Scholars Publishing.

DeMulder, E.K., Ndura, E., & Stribling, S.M. (2009). From vision to action: Fostering peaceful coexistence and the common good in a pluralistic society through teacher education. Peace & Change 34,27-48.

Stribling, S.M. (2008). Using critical literacy practices in the classroom. New England Reading Association Journal 44,34-38.

Stribling, S.M., DeMulder, E.K., & Ndura, E. (2008). Introduction to the case studies accompanying Teachers taking action: A comprehensive guide to teacher research. In Lassonde, C.A. & Israel, S.E. (Eds.), Teachers taking action: A comprehensive guide to teacher research. International Reading Association. Online: http://www.reading.org/downloads/publications/books/463/bk463-OS-Intro.pdf

Stribling, S.M., & Kraus, S. (2008). In the classroom with Susan Kraus and Stacia Stribling. In Morrison, G., Teaching in America (5th ed.). New York: Allyn and Bacon.

Stribling, S.M., & Kraus, S. (2007). Content and mechanics: Understanding first grade writers. Voices of Practitioners. Online: http://journal.naeyc.org/btj/vp

DeMulder, E.K., & Stribling, S.M. (2005). Agency: Empowering teachers as self-aware learners. In Caldwell, J., Cleary, P., Crossan, B., Edwards, R., Gallacher, J., Gray, P., et al. (Eds.), What a difference a pedagogy makes: Researching lifelong learning and teaching: Vol. 2. (pp. 667-674). Scotland: The Centre for Research in Lifelong Learning.
Courses Taught This Semester
Other Courses Taught
Language and Literacy Assessment and Instruction for Diverse Young Learners (EDUT 613)
Studies in Language and Culture I (IETT 750)
Studies in Language and Culture II (IETT 751)
Research in Practice: The Team Project (IETT 752)
Teaching and Learning (IETT 753)
The New Professionalism: Theory and Practice (MNPE 700)
The New Professional as a Reflective Practitioner (MNPE 702)
Technology and Learning in the New Professions (MNPE 703)
Research Methodologies in the New Professionalism (MNPE 704)