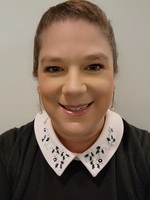 Contact Information
Phone: (703) 993-1747
Fax: (703) 993-3681
Email: snagro (@gmu.edu)
George Mason University
Fairfax Campus
Finley Building 222
4400 University Dr.
MS 1F2
Fairfax, VA 22030
Profile
Dr. Sarah A. Nagro earned her doctorate in Special Education from Johns Hopkins University and is currently an assistant professor at George Mason University in the School of Education Division of Special Education and Disability Research. Her research focuses on determining best practices for teacher education in special education. Specifically, she focuses on understanding effective approaches to preparing profession-ready teachers through meaningful field-based experiences that emphasize reflection, self-evaluation, and professional buy-in using technology enhanced and video-based activities. Sarah is interested in understanding how to help teacher candidates and novice teachers find success when educating students with disabilities in inclusive classrooms with the goal of retaining high quality professionals. Dr. Nagro explores both bottom up and top down approaches to propelling our profession forward as a teacher education interventionist and education policy and political advocacy researcher.
Grant Funding. Dr. Nagro has secured $7,480,985 in external funding and $70,000 in internal funding as either principal or co-principal investigator since joining the Mason faculty. Most recently, Sarah and her colleagues Dr. Michael Kennedy at University of Virginia and Dr. Shanna Hersch at Clemson University were awarded a National Center for Special Education Research (NCSER) Professional Development for Educators and School-Based Service Providers Grant funded through the Institute for Education Sciences (IES). In the 2020 competition, they proposed to iteratively develop and experimentally test a multimedia, multicomponent approach to support general and special education teacher candidates' knowledge and implementation of evidence-based classroom management practices called Feedback, Reflection, and Multimedia to Teach Evidence-Based Practices (FRaME). Project FRaME will bring together 35 collaborators from 35 different universities teaching a combined 760 teacher candidates per year on average. These teacher candidates will teach thousands of K-12 students with and without disabilities upon entering the workforce. This four-year project has the potential for a major impact in the field of special education and teacher education.
Additionally, Dr. Nagro was awarded a 2019 Doctoral Preparation Grant through OSEP in collaboration with Dr. Colleen Thoma and Dr. LaRon Scott at Virginia Commonwealth University (VCU) titled Policy and Research Intensive Special Education Cohort (PRISE). Dr. Nagro recruited and enrolled six full-time doctoral students at Mason as part of a 13 person collaborative cohort who will focus on tackling the national teacher shortage through research and policy initiatives. Please visit https://kihd.gmu.edu/leadership-grants/prise to learn more.
Leadership and Honors. Dr. Nagro is an Executive Board Member for the Teacher Education Division (TED) of the Council for Exceptional Children (CEC) and Higher Education Consortium for Special Education (HECSE). She received the Quantitative Research Award (2015) from Kaleidoscope at the CEC Annual Conference, TED's Dissertation Award (2015), the Outstanding Student Research Award (2016) from the Special Education Research SIG of the American Educational Research Association (AERA), and the Outstanding Dissertation Award (2017) from the American Association for Colleges of Teacher Education (AACTE). Most recently, Sarah received the TED Early Career Publication Award (2019).
Research Interests
Special Education Teacher Education
Special Education Policy and Political Advocacy
Teacher Education Policy and Political Advocacy
Field Experiences
Reflective Practice
Technology Enhanced Teacher Preparation Activities
Video-Based Teacher Preparation Activities
Preparing Teacher Candidates for Inclusive Settings
Preparing Teacher Candidates to Teach Reading and Math to Students with High Incidence Disabilities
Mixed Methods Research
Experimental and Quasi-experimental Group Design Research
Courses Taught This Semester