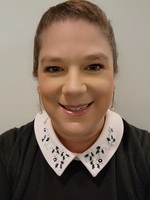 Contact Information
Phone: (703) 993-1747
Fax: (703) 993-3681
Email: snagro (@gmu.edu)
George Mason University
Fairfax Campus
Finley Building 222
4400 University Dr.
MS 1F2
Fairfax, VA 22030
Curriculum Vitae
Profile
Dr. Sarah A. Nagro earned her doctorate in Special Education from Johns Hopkins University and is currently an assistant professor at George Mason University in the Graduate School of Education. Her research focuses on determining best practices for teacher education in special education. Specifically, she focuses on understanding effective approaches to preparing profession-ready teachers through meaningful field-based experiences that emphasize reflection, self-evaluation, and professional buy-in using technology enhanced and video-based activities. Sarah is interested in understanding how to help teacher candidates and novice teachers find success when educating students with disabilities in inclusive classrooms with the goal of retaining high quality professionals.
She has published 16 peer-reviewed publications and four book chapters and have given more than 50 national presentations in the areas of reflective practice, technology enhanced field experiences, and teacher education in professional journals such as The Journal of Special Education, Remedial and Special Education, Teaching Exceptional Children, Intervention in School and Clinic, and Teacher Education and Special Education. Dr. Nagro secured internal and external funding to support her research including $857,095 as Principle Investigator and $2,892,094 as Co-PI in external grant competitions as well as $24,800 from internal competitions. Her externally funded work allowed her to work towards a system of partnerships with leaders in early childhood and school-age special education arenas in order to build and sustain capacity of quality programs. More specifically, the grants: (a) promoted the use of evidence-based practices, (b) fostered collaboration between interventionists, services providers, agencies, and school and community programs, (c) provided professional development and resources to school, district, and regional personnel, and (d) built the capacity of systems and programs to provide supports and services and expand and enhance inclusive programs. The internal awards have been specific to Dr. Nagro's technology enhanced field experience research. The GMU awards have allowed for a link between teacher preparation research and PK-12 student outcomes.
Dr. Nagro is an Executive Board Member for the Teacher Education Division (TED) of the Council for Exceptional Children (CEC) and currently serves as an editorial board member for the Journal of Teacher Education and Special Education. She received the Quantitative Research Award (2015) from Kaleidoscope at the CEC Annual Conference, TED's Dissertation Award (2015), the Outstanding Student Research Award (2016) from the Special Education Research SIG of the American Educational Research Association (AERA), and the Outstanding Dissertation Award (2017) from the American Association for Colleges of Teacher Education (AACTE).
Research Interests
Special Education Teacher Education
Field Experiences
Reflective Practice
Technology EnhancedTeacher Prepaparation Activies
Video-Based Teacher Prepaparation Activies
Preparing Teacher Candidates for Inclusive Settings
Preparing Teacher Canidates to Teach Reading and Math to Students with High Incidence Disabilities
Mixed Methods Research
Experimental and Quasi-experimental Group Design Research