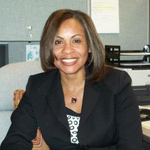 Contact Information
Phone: (703) 993-4419
Fax: (703) 993-5577
Email: rtalleyr (@gmu.edu)
George Mason University
Fairfax Campus
Krug Hall 201A
4400 University Dr.
MS 1H1
Fairfax, VA 22030
Profile
Dr. Regine Talleyrand is an Associate Professor for the Counseling Program in the College of Education and Human Development at George Mason University. Dr. Talleyrand's professional, research and service interests are in studying mental and physical health disparities in racially and ethnically diverse groups and developing culturally relevant counseling interventions for communities that have been underrepresented and underserved. She has published and presented extensively in the areas of eating disorders in African American women, racial identity and acculturation, multicultural social justice counseling competencies, and advising and mentoring relationships in the counseling profession. Her newest research and community service area has focused on exploring mental health concerns of recently immigrated undocumented youth—a population that has grown in the Northern VA area. Dr. Talleyrand served from 2005 to 2016 as an advisor and consultant to the Arlington-Alexandria Coalition for the Homeless, a private, non-profit organization that provides transitional housing and support services for homeless individuals living in the Northern Virginia area and currently serves on the Board of Directors for the Northern Virginia Mediation Services (NVMS) Conflict Resolution Center. Dr. Talleyrand is on the Editorial Review Board for two premier journals in the counseling profession--The Counseling Psychologist and the Journal for Social Action in Counseling and Psychology. Dr. Talleyrand completed her Ph.D. in Counseling Psychology from the University of Maryland. She holds a Bachelor of Arts degree in Psychology (minor in Spanish) from the University of Pennsylvania and received a Master of Arts degree in Human Development from the University of Maryland.
Research Interests
Racial Identity Theory and Acculturation Stressors
Eating disorders, body image and obesity concerns/prevention in people of color/underrepresented groups
Social justice and multicultural competency issues in counselor/psychology training and development
Mental health concerns of undocumented immigrants
Advising and mentoring relationships
CQR, grounded theory, self-study qualitative approaches
Recent Publications
Stewardson, L., Nolan, J.R., & Talleyrand, R.M. (2020). Eating Disorders and Body
Image Concerns in Men of Color: Cultural Considerations. Journal of Mental Health Counseling, 42 (2): 110–123. https://doi.org/10.17744/mehc.42.2.02
Talleyrand, R.M., & Vojtech, J. (2018). Potential stressors of undocumented Latinx youth: Implications and recommendations for school counselors.
Professional School Counseling, 22(1). https://doi.org/10.1177/2156759X19847168
Chung, R. C-Y., Bemak, F., Talleyrand, R.M. & Williams, J. (2018). Challenges in promoting race dialogues in psychology training: Race and gender perspectives.
The Counseling Psychologist,46,2, 213-240, doi-org.mutex.gmu.edu/10.1177/0011000018758262
Talleyrand, R.M., Gordon, A, D., Daquin, J.V., & Johnson, A.J. (2016). Expanding our understanding of eating attitudes, eating practices and body image in African American women:
A qualitative study. Journal of Black Psychology, 1-29, doi: 10.1177/0095798416649086
Talleyrand, R.M. Eating disorders diagnosis and treatment in African American youth. (2016). In A. M. Breland-Noland, C. Al-Mateen, & N.N. Singh (Eds.), Handbook of Mental Health in African American youth.
New York, NY: Springer.
Other Information
Courses
EDCD 602: Foundations of Counseling
EDCD 660: Multicutural Counseling
Courses Taught This Semester