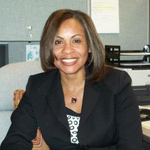 Contact Information
Phone: (703) 993-4419
Fax: (703) 993-5577
Email: rtalleyr (@gmu.edu)
George Mason University
Fairfax Campus
Krug Hall 201A
4400 University Dr.
MS 1H1
Fairfax, VA 22030
Profile
Dr. Talleyrand is an Associate Professor and Coordinator for the Counseling and Development Program in the Graduate School of Education at George Mason University. Dr. Talleyrand's research interests focus on the use of racial identity theory, acculturation, and multicultural competencies to support the development of new physical and mental health models for People of Color. Her primary area of study includes examining the relationship between stress, race and eating disorders in Black women and  has received grant funding to support her study of eating disorders in Black women. She has also written on the topics of mentoring, advising and career support and barriers. Dr, Talleyrand serves as a ad-hoc reviewier for the Journal of Counseling Psychology, The Counseling Psychologist, and the Journal of Black Psychology .
Dr. Talleyrand completed her Ph.D. in August, 2001 from the University of Maryland. Her area of study was Counseling Psychology.  She holds  a Bachelor of Arts degree in Psychology from the University of Pennsylvania. She also received a Master of Arts degree in Human Development from the University of Maryland.
Research Interests
Racial Identity Theory
Multicultural Counseling Competencies
Eating Disorders in Women of Color
Childhood Obesity
Advising and Mentoring Relationships
Recent Publications
Talleyrand, R. M., & Chung, R. C-Y. (in press). Mentoring relationships in the counseling field: A multicultural perspective. In F. Columbus (Ed.). Mentoring: Program development, relationships and outcomes. Nauppauge, NY: Nova Science Publishers Inc.
Talleyrand, R.M. (in press). Eating disorders in African American girls: Implications for counselors. Journal of Counseling and Development.
Schlosser, L.Z., Talleyrand, R.M., Lyons, H.Z., & Baker, L. (2007). Racism, antisemitism, and the schism between Blacks and Jews in the United States: A pilot intergroup encounter program. Journal of Multicultural Counseling and Development, 35 (2),116-128.
Chung, R.C-Y., Bemak, F., & Talleyrand, R.M. (2007). Mentoring within the field of counseling: A preliminary study of multicultural perspectives. International Journal for the Advancement of Counselling, 29 (1), 21-32.
Talleyrand, R.M. (2006). Potential stressors contributing to eating disorder symptoms in African American women: Implications for mental health counselors. Journal of Mental Health Counseling, 28 (4), 338-352.
Other Information
Courses
EDCD 604: Assessment and Appraisal in Counseling
EDCD 754 Supervised Practicum in Community Agency Counseling
EDCD 790 Supervised Internship in Community Agency Counseling
Courses Taught This Semester