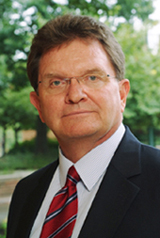 Contact Information
Phone: (703) 993-9705
Fax: (703) 993-9707
George Mason University
Fairfax Campus
Thompson Hall 1401
4400 University Dr.
MS 4D2
Fairfax, VA 22030
Profile
Peter Barcher is associate dean for research in the College of Education and Human Development. He works closely with faculty, staff, and students on matters pertaining to their research, especially with respect to securing extramural support through grants and contracts. During his career Dr. Barcher has served as principal investigator/project director on over 40 sponsored projects which have supported research, faculty and program development, international programs, economic and institutional development, and other activities.
Prior to joining George Mason University, Dr. Barcher was at the University of Wisconsin-Madison, where he served as associate dean for research and program development in the School of Business. Before going to UW-Madison in 1993, Dr. Barcher spent 19 years with the State University of New York, where he held both faculty and senior administrative positions. During this period he received several awards from the campus and the SUNY system administration for his leadership and entrepreneurship. He also served as visiting professor and program development officer in the College of Business at the Rochester Institute of Technology.
His research has been published in the Journal of Educational Psychology, American Journal of Mental Deficiency, Applied Research in Mental Retardation, and elsewhere.
Dr. Barcher received his bachelor's, master's, and doctoral degrees in psychology from Syracuse University.
Campus Affiliations