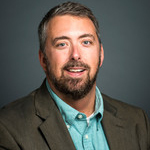 Contact Information
Phone: (703) 993-2384
Fax: (703) 993-2013
Email: mhelmsin (@gmu.edu)
George Mason University
Fairfax Campus
Thompson Hall 1801
4400 University Dr.
MS 4B3
Fairfax, VA 22030
Curriculum Vitae
Profile
Teaching: Dr. Helmsing joined the faculty of George Mason University in 2017 as an Assistant Professor in the Graduate School of Education where he holds a primary appointment in the Secondary Education Program (SEED) with affiliate appointments in the Advanced Studies in Teaching & Learning program (ASTL); the Teaching & Teacher Education doctoral program (TATE); and the Center for International Education (CIE). Prior to teaching at Mason, he taught courses in curriculum studies and social studies education at the University of Wyoming and Michigan State University, where he was a student in MSU's Curriculum, Teaching, and Education Policy Ph.D. program. Dr. Helmsing has been a high school and middle school teacher in Indiana, Arizona, and overseas in Scotland, and recently spent time teaching in an urban middle school in the spring of 2017. He has supervised and instructed student teaching interns in middle and high school classrooms in rural, suburban, and urban schools. As a teacher educator and teacher researcher committed to engaged teaching and public pedagogy, Dr. Helmsing has collaborated with educators and community members in diverse sites, ranging from the American Museum of Natural History in New York City to the Wind River Indian Reservation in Wyoming. His teaching and outreach aim to help educators consider the imaginative possibilities of history and social studies education in schools, museums, and everyday life by drawing upon ideas and methods ranging from folklore, popular culture, and oral history to cultural heritage, digital memory, and media archaeology.
Research: Dr. Helmsing's research explores the affective attachments and narrative modes that shape how we feel about the past and how the past makes us feel, or, as Eelco Runia puts it, how we are "moved by the past." He studies and writes about the interrelated roles of history, heritage, and popular culture in creating what scholars call the popular past, the presence of the past, and sublime historical experiences. These concepts refer to how the past appears to us in places such as historical reenactments, museum exhibitions, feature films, television series, video games, theme parks, memorials, and national parks. One strand of this research examines different affects and emotions used in historicizing war, violence, and genocide (such as grief, mourning, compassion), focusing on representations of the First and Second World Wars, the Holocaust, the Vietnam War, the U.S. Civil War, and recent wars in Iraq and Afghanistan. To support this project, he was recently selected as a fellow in the George Washington University's March for the Living Holocaust Education Faculty Fellows program. This research apperas in various articles and book chapters and is leading to a book project tentatively titled Learning about War: Affect, Emotion, and Feeling in History and Social Studies Education. A second strand of Dr. Helmsing's research investigates narrative thinking of the past, from how we learn to narrate and think about time periods (such as the 1980s or the medieval world) to how we narrate ideas and ideals about national belonging and national identity through narrative tropes and allegoricaly expressive modes (such as tragedy, comedy, horror). For this project, Dr. Helmsing uses concepts from psychoanalysis, affect studies, and critical hermeneutics to investigate what we teach through popular forms of the past in Westerns, horror films, and costume dramas. This work appears in a book under contract titled Captivating the Past: Emplotments of History, Affect, and Critical Media Literacy. In his professional fields, Dr. Helmsing represents the College and University Faculty Assembly of the National Council for the Social Studies in its House of Delegates and serves as a member of the editorial boards for The Journal of Curriculum & Pedagogy; The International Journal of Critical Youth Studies; Taboo: The Journal of Culture and Education; and three academic book series. He is a co-editor of Keywords in Social Studies: Concepts and Conversations (Peter Lang) and has published numerous articles and chapters related to history, museums, and popular culture.
Research Interests
History & Social Studies Education
Theory & Philosophy of History
Affect & Emotion in History Education
Narrative Studies & Narratology in Education
Museum Studies & Heritage Studies
Recent Publications
Chapters in Books:
Whitlock, A.M. & Helmsing, M. (in press). Time. In D.G. Krutka, A.M. Whitlock, & M. Helmsing (Eds.), Keywords in the social studies: Concepts and conversations. New York, NY: Peter Lang.
Helmsing, M. (2018). Making America great (again and again): Certainty, centrality, and paranoaic pedagogies of social studies education in the United States. In J.A. Sandlin & J. Wallin (Eds.), Paranoid pedagogies: Education, culture, and paranoia (pp. 99-120). New York, NY: Palgrave Macmillan.
Helmsing, M. (2017). A small town with long roads: Wyoming as a postwest curriculum. In W.M. Reynolds (Ed.), Forgotten places: Critical studies in rural education (pp. 291-301). New York, NY: Peter Lang.
Helmsing, M. (2016). Life at large: Materializing social studies education for re-enchantment. In N. Snaza, D. Sonu, S. Truman, & Z. Zaliwska (Eds.), Pedagogical matters: New materialisms and curriculum studies (pp. 137-151). New York, NY: Peter Lang.
Helmsing, M. (2016). "This is no ordinary apple": Learning to fail specatcularly in the affective pedagogy of Disney's diva villains. In J.A. Sandlin, & J.C. Garlen (Eds.), Disney, culture, curriculum (pp. 59-72). New York, NY: Routledge.
Helmsing, M. (2014). Feeling responsible: Vulnerable encounters in social studies education. In H. Smits & R. Naqvi (Eds.), Framing peace: Thinking about and enacting curriculum as radical hope (pp. 43-48). New York, NY: Peter Lang.
Helmsing, M. (2014). Grotesque stories, desolate voices: Encountering histories and geographies of violence in Southern Gothic's haunted mansions. In W.M. Reynolds (Ed.), Critical studies of Southern place: A reader (pp. 316-323). New York, NY: Peter Lang.
Articles in Journals:
Helmsing, M. (2016). Becoming-American: Experiencing the nation through LGBT fabulation in a ninth grade U.S. history class. The Journal of Social Studies Research, 40(3), 173-186.
Janak, E. & Helmsing, M. (2016). Problematizing philanthropy: How a historical study of the General Education Board in the U.S. West puts the "social" in race and region as social constructs. Race, Ethnicity, & Education, 20(2), 277-288.
Houseal, A., Gillis, V., Helmsing, M., & Hutchison, L. (2015). Disciplinary literacy through the lens of Next Generation Science Standards. Journal of Adolescent & Adult Literacy, 59(4), 377-384.
Helmsing, M. (2014). Vitruous subjects: A critical analysis of the affective substance of social studies education. Theory & Research in Social Education, 42(1), 127-140.
Helmsing, M. (2014). An/Other American life: Minor pedagogies of heritage in the Arab American National Museum. Review of Education, Pedagogy, & Cultural Studies, 36(1), 71-88.
Other Information
Dr. Helmsing is seeking George Mason students, faculty, community members, and educators in nearby schools to lend their expertise and join in collaborating on the following projects:
(1) a study of how we teach and learn about the 1980s/1990s in schools, museums, and popular culture (Reagan Revolution, HIV/AIDS, rise of conservatism, fall of communism, and related historical events)
(2) a study of how we teach and learn about the experiences of war in schools, museums, and popular culture (including visits to historical sites, battlefields, monuments, and memorials)
If you teach a history/social studies course at the secondary and/or college level that addresses these topics, please contact Dr. Helmsing to discuss a possible research project collaboration.