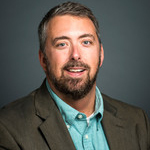 Dr. Mark Helmsing
PhD, Michigan State University
Assistant Professor

Contact Information
Phone: (703) 993-2384
Fax: (703) 993-2013
Email: mhelmsin (@gmu.edu)
George Mason University
Fairfax Campus
Thompson Hall 1807
4400 University Dr.
MS 4B3
Fairfax, VA 22030
Profile
I came to George Mason in 2017 as an assistant professor of education in the College of Education and Human Development. I am also an Affiliate Faculty member in Mason's Folklore Studies Program and Mason's Department of History and Art History. I teach M.Ed. courses in the Secondary Education (SEED) Program and Advanced Studies in Teaching and Learning (ASTL) Program as well as doctoral courses in Mason's Ph.D. in Education Program, in which I also advise a number of doctoral students. I welcome working with anyone interested in wanting to teach history and imagining new ways to engage with the past.
As a history educator, I explore how people feel about the past and how the past makes people feel. My work is divided into three different dimensions:
1. Vernacular ways of learning the past through folklore, found history, oral history, and cultural memory

2. Affective ways of learning the past through wonder, enchantment, pride, and surprise

3. Thanatological ways of learning the past through haunting, mourning, and remembrance
These explorations into learning about the past examine formal history education in schools and museums and informal history learning in popular culture and everyday life, and have resulted in numerous publications ranging on topics such as medievalism, patriotism, ghost walks, grave robbing, amusement parks, Vietnam War veterans, virtual reality testimony of Holocaust survivors, Arab-American histories, histories of the AIDS Crisis, and the complexity of teaching recent history from the 1980s and 1990s. This work also appears in a number of issues for different journals I have co-edited, including Critical Literacy, the Journal of Folklore and Education, and The Teacher Educators' Journal. I currently serve on the Editorial Board for The Journal of Curriculum and Pedagogy and numerous academic press book series.
Nationally, I have conducted fieldwork in schools and museums throughout the United States. Internatioanlly, I have conducted fieldwork through programs I have created or co-created on historical issues of the Holocaust in Germany and Poland, the civil war in Cyprus, and cultural diffusion in Greece. In 2020 I became a member of the Reconciling Conflicts and Intergroup Divisions (RCID) lab within Mason's Jimmy and Rosalynn Carter School for Peace and Conflict Resolution. With colleagues at Mason and around the world I am engaged in considering how history education can contribute to reconciling societal divisions and using cultural memory to improve social cohesion. Recently this work has brought me into both state and national conversations, convenings, and commissions concerned with antisemitism, racism, and other difficult problems.
As a teacher educator, my work in K-12 schools includes attending to the problems and practices of learning to teach, especially with those who teach teachers in schools, museums, and elsewhere. I was previously a reserach team member studying teacher professional development at many museums and cultural institutions throughout New York City. Currently, several colleagues and I are engaged in studying how the COVID-19 pandemic affects the teaching and mentoring of new educators. This work has been published in a number of award-winning publications. This work builds upon the clinical dimensions of teacher education in which I am engaged as the coordinator of clinical, site-based experiences for teachers in Mason's Secondary Education (SEED) program.
Research Interests
History & Social Studies Education
Curriculum Theory & Curriculum Studies
Imagination, Figuration, & Metaphor in Education
Affect, Mood, & Emotion in Education
Folklore, Heritage, & Vernacular History
Critical Hermenenutics & Phenomenology
Popular Culture & Critical Media Literacy
Southern Studies & Midwestern Studies
Recent Publications
Recent publications in the past year:
Christ, R.C., Helmsing, M., van Kessel, C., & Varga, B. (In Press). Teaching grim matters: Situating COVID-19 within the context of death and grief. In W. Journell (Ed.), Social Studies in the Wake of Covid-19 (Expected December 21, 2021).
Varga, B., van Kessel, C., Helmsing, M. (2021). Engaging with the death & memorialization of socially significant public figures in social studies education. Oregon Journal of the Social Studies, 9(1), 73-83.
Varga, B., van Kessel, C., Helmsing, M., & Christ, R.C. (2021). Hello from the other side: Breathing life into death and grief with/in the context of social studies education. Iowa Journal for the Social Studies, 29(2), 8-29.
Helmsing, M., & Porter, A. (2021). Teaching the history of the AIDS Crisis: 40 years of HIV/AIDS in American life. Teaching Social Studies, 21(1), 11-17.
Zenkov, K., Helmsing, M., Parker, A.K., Glasser, H., & Bean, M. (2021). Portrait of a teacher educator as a weary pedagogue: Narrating our way to a post-pandemic vision of education preparation. The Teacher Educators' Journal, 14(Spring), 106-125.
Helmsing, M. (2020). Dreams of the past: The work of dreaming and historical (un)consciousness in history teacher education. Journal of Curriculum Theorizing, 35(4), 74-86.
Helmsing, M. (2020). Uncertain historical knowledge for uncertain times. Knowledge Cultures, 8(2), 82-86.
Helmsing, M. & Noy, S. (2020). Teaching global health in the time of Covid-19: Key concepts for social studies. Journal of International Social Studies, 10(2), 103-112.
Helmsing, M. & van Kessel, C. (2020). Critical corpse studies: Engaging with death and corporeality in curriculum. Taboo: Journal of Culture and Education, 19(3), 140-164.
Helmsing, M. (2020). Youth, Becoming-American, and learning the Vietnam War. In S.R. Steinberg & B. Down (Eds.), The SAGE handbook of critical pedagogies (pp. 1411-1420). SAGE Publications.
Huddleston, G. & Helmsing, M. (2020). Pop culture 2.0: A political curriculum in the Age of Trump. In P.P. Trifonas (Ed.), Handbook of theory and research in cultural studies and education (pp. 543-557). Springer.
Helmsing, M. (2020). Queer theory and the social studies: Engaging with histories, communities, and identities. In C. Brant & L. Willox (Eds.), Teaching the Teachers: LGBTQ Issues in Teacher Education. Information Age Publishing.
Helmsing, M. (2019). Disability plots: Curriculum, allegory, & history. Journal of Curriculum Theorizing, 34(1), 110-116.
Helmsing, M. & Vardas-Doane, A. (2019). Teaching and learning medievalism in popular culture as history education. Teaching Social Studies, 19(1), 25-30.