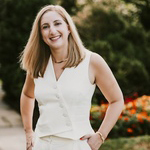 Contact Information
Phone: This information is not available
Fax: This information is not available
Email: hwalter2 (@gmu.edu)
George Mason University
Fairfax Campus
Thompson Hall 1801
4400 University Dr.
MS 4C2
Fairfax, VA 22030
Profile
Dr. Heather Walter is an Assistant Professor in the Early Childhood Education program. Prior to this postion she worked as a Visiting Assistant Professor and Interim Program Director of the Early Childhood Special Education program at the George Washington University. Dr. Walter also obtained her doctorate in special education as well as her Ed.S degree as a funded scholar. Dr. Walter was trained in both early and elementary education as well as special education and administration. She also taught in many inclusive urban and suburban settings. Dr. Walter's expertise is in the social emotional development of young children with and at risk for dis/abilities. She has implemented teacher training and professional development in a variety of school settings. At Mason, Dr. Walter teaches courses and supervises students in the ECE/ ECSE programs.
Dr. Walter's most recent research is focused on indicators at the individual and systems level that contribute to both student and teacher success. Dr. Walter integrates mixed methods, interdisciplinary practices, participatory research, and implementation science to promote positive change. Dr. Walter was recognized for the 2021 dissertation award in Mixed Methods for American Educational Research Association (AERA) as well as the poster winner for the Society for Research in Child Development (SCRD) that focuses on the importance of contributions for policy research.
Research Interests
Early Childhood/ Early Childhood Special Education
Teacher Development/ Teacher Retention
School Culture
Teacher and School-Based Well-being
Participatory Community Based Research
Mixed Methods
Implementation Science
Recent Publications
Walter, H.L., Fox, H, (in press). Understanding teacher well-being during COVID-19 pandemic overtime: A qualitative longitudinal study. Journal of organizational psychology. 21(5) 37-51.
Fox, H., Tuckwiller, E.D., Kutscher, E. L., & Walter, H.L. (2020). "What makes teachers well?" A mixed methods study of special education teacher well-being. Journal of Interdisciplinary Studies in Education. 9(2) 234-258. https://doi.org/10.32674/jise.v9i2.2170
Walter H, L. (2020). Exploring early childhood special education teachers' wellbeing through a multidimensional lens: A mixed methods study. Unpublished doctoral dissertation. The George Washington University.
https://www.proquest.com/openview/d23dc803ab0d7bcb280b8e05f21f7fcb/1?pq- origsite=gscholar&cbl=18750&diss=y
Stites, M.L. & Walter, H.L. & Krikorian, J. (2020). These aren't the kids I signed up for: the lived experience of general education early childhood preservice teachers in classrooms for children with special needs. Journal for Early Childhood Teacher Education. doi.org/10.1080/10901027.2020.1718806
Stites, M.L & Walter, H.L. (2019). Adding to the Equation. National Association of Elementary Principals. https://www.naesp.org/resource/adding-to-the-equation/
Yang, S., Geller, A., Baciu, A, Alexis, N... Walter, H. L. (2018). Fifth Annual DC Public Health Case Challenge. Lead and Adverse Childhood Experiences: Neurological and Behavioral Consequences for Youth in the District of Columbia. Discussion Paper, Institute of Medicine. https://nam.edu/fifth-annual-dc-public-health-case-challenge/
Courses Taught This Semester