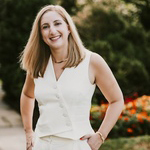 Contact Information
Phone: 17039936582
Fax: This information is not available
Email: hwalter2 (@gmu.edu)
George Mason University
Fairfax Campus
Finley Building 206
4400 University Dr.
MS 4C2
Fairfax, VA 22030
Profile
Dr. Heather Walter is an Assistant Professor in the Early Childhood Education program at George Mason University. Dr. Walter is a practitioner-scholar who prior to obtaining her doctorate worked in early intervention, preschool, and K-5 general and special education settings in multiple states and various diverse settings. Her work with children, educational systems, and communities help to support healthy children and improved child outcomes. Dr. Walter completed her Ed.D in Special Education and Disability Studies from George Washington University. She also holds an Ed.S Leadership degree as a funded scholar in the Leadership in Excellence in Achievement in Early Childhood Special Education Administration.
Dr. Walter teachers courses in early childhood special education, and her research draws upon interdisciplinary and participatory practices using mixed methods to understand the social-emotional development and overall well-being of all young children and the adults who serve them, to improve outcomes. Therefore, Dr. Walter's expertise includes both individual (home and classroom) and systems- level (district, teacher preperation, policy) support, such as: universal design for learning and embedded instruction, personel preperation and coaching, teacher retention, mental health and wellbeing, and systems change.
Dr. Walter was recognized for the 2021 dissertation award in Mixed Methods for American Educational Research Association (AERA), as well as the poster winner for the Society for Research in Child Development (SCRD) that focuses on the importance of contributions for policy research. She received an Exchange Leader through the Exchange Leadership Initiative in 2021 and has been recognized for her teaching at multiple universities. She has published research and practitioner articles in peer-reviewed journals and has presented at local, regional, national, and international conferences.
Research Interests
Early Childhood/ Early Childhood Special Education
Personnel Preperation/ Worforce Retention
Eduational Systems Change
Mental Health, Wellbeing, Social Emotional Developmet
Participatory Community Based Research
Mixed Methods Research
Implementation Science
Recent Publications
Walter, H.L., Spence, C., Ellis, R.D. (in press). Leading systems change: A framework for embedding well-being in EI-ECSE. Younch Exceptional Children. Moogragraoh (9). Division of Early Childhood.
Kidd, J.K., LaCriox., L.,
Walter., H.,
Ferguson, D., Fisher-Maltese, C Steen, B., Vesely, C., (2023). A Dynamic Process Model for Blending ECE/ECSE Teacher Preparation Programs. Submitted to Journal of Early Childhood Teacher Education
https://doi.org/10.1080/10901027.2023.2194246
Fox, H., &
Walter, H.L
. (2022). More than strengths within: Cultivating teacher resilience during COVID-19. Critical Issues in Education, 23(1.) https://doi.org/10.14507/cie.vol23iss1.1978
Walter, H.L.,
Fox, H, (2021). Understanding teacher well-being during COVID-19 pandemic overtime: A qualitative longitudinal study. Journal of organizational psychology. 21(5) 37-51. https://doi.org/10.33423/jop.v21i5.4716
Fox, H., Tuckwiller, E.D., Kutscher, E. L., &
Walter, H.L.
(2020). "What makes teachers well?" A mixed methods study of special education teacher well-being. Journal of Interdisciplinary Studies in Education. 9(2) 234-258. https://doi.org/10.32674/jise.v9i2.2170
Walter H, L.
(2020). Exploring early childhood special education teachers' wellbeing through a multidimensional lens: A mixed methods study. Unpublished doctoral dissertation. The George Washington University.
https://www.proquest.com/openview/d23dc803ab0d7bcb280b8e05f21f7fcb/1?pq- origsite=gscholar&cbl=18750&diss=y
Stites, M.L. &
Walter,
H.L. & Krikorian, J. (2020). These aren't the kids I signed up for: the lived experience of general education early childhood preservice teachers in classrooms for children with special needs. Journal for Early Childhood Teacher Education. doi.org/10.1080/10901027.2020.1718806
Stites, M.L &
Walter, H.L.
(2019). Adding to the Equation. National Association of Elementary Principals. https://www.naesp.org/resource/adding-to-the-equation/
Yang, S., Geller, A., Baciu, A, Alexis, N...
Walter, H. L.
(2018). Fifth Annual DC Public Health Case Challenge. Lead and Adverse Childhood Experiences: Neurological and Behavioral Consequences for Youth in the District of Columbia. Discussion Paper, Institute of Medicine. https://nam.edu/fifth-annual-dc-public-health-case-challenge/
Campus Affiliations
Interdisciplinary Center for Research and Development in Teacher Education