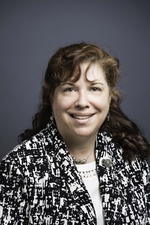 Dr. Heidi J. Graff
PhD, George Mason University
Associate Professor

Contact Information
Phone: (703) 993-8036
Fax: (703) 993-5070
Email: hgraff (@gmu.edu)
George Mason University
Fairfax Campus
Krug Hall 110C
4400 University Dr.
MS 1F2
Fairfax, VA 22030
Profile
Heidi J. Graff began working on the Kellar Instructional Handheld (KIHd) System as a facilitator for the 2004/2005 George Mason University Graduate Immersion Program for Instructional Design and Development. She got involved in the project due to her professional and personal experience in working with children with Autism. Prior to her work with the KIHd System project, for almost ten years, Heidi administered and co-partnered a private practice to assist families and children diagnosed with Autism Spectrum Disorder. During that time, she became very familiar with discrete trial training and the limitations of previous technology. With her teaching certificate in Elementary Education from SUNY, College at Cortland and her Master's degree from Long Island University in Library Science, it seemed natural for her to pursue a Ph.D. in Education to research intervention methodologies.
While at George Mason University, Heidi has had the opportunity to work as an adjunct professor where she taught courses related to special education, collaborative consultation and single subject design. She has the role of Project Coordinator on the KIHd System Steppingstones grant project. Furthermore, after graduation in May of 2007, she happily accepted the position of Mason LIFE Program Director. Heidi's future plans include making the LIFE program a model postsecondary program for students with intellectual disabilities with parent participation, research, funding, and inclusive community practices.
Research Interests
Dr. Heidi J. Graff serves as the Mason LIFE Program Director at George Mason University, as well as course instructor in the Autism Master's program. Mason LIFE is an inclusive postsecondary education program for college-age students with intellectual and developmental disabilities in in that focuses on academics, independent living skills, and integrated employment. Dr. Graff's research interests include disability and sexuality, parent perspective on transition into adulthood, and academic advancement for adult learners with challenges.
Recent Publications
Evmenova, A. S., Graff, H. J., Motti, V. G., Giwa-Lawal, K., & Zheng, H. (2018). Developing a wearable technology intervention to support young adults with IDD in inclusive postsecondary academic environments. Manuscript submitted for publication (Journal of Special Education Technology).
Graff, H. J., Moyher, R. E., Bair, J., Foster, C., Gorden, M. E., & Clem, J. (2017). Relationships and sexuality: How is a young adult with an intellectual disability Supposed to Navigate? Sexuality and Disability, 1-9.
Alsuhaibani, A., Evmenova, A. S., Graff, H. J. (2016). Video-based educational interventions for individuals on the autism spectrum: a literature review. GAP, 17, 54-60.
Evmenova, A. S., Graff, H. J., & Behrmann, M. M. (2015). Providing access to academic content for high-school students with intellectual disability through interactive videos. Focus on Autism and Other Developmental Disabilities, 1-13.
Campus Affiliations
Sp Ed: Low Incidence Disabilities
Other Courses Taught
Communication and Severe Disabilities (EDSE 434)
Comprehensive Topics in Special Education: Trends and Issues (EDSE 782)