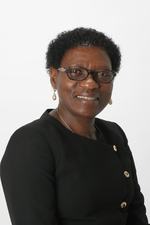 Contact Information
Phone: (703) 993-9424
Fax: (703) 993-5300
George Mason University
Fairfax Campus
Thompson Hall 1501
4400 University Dr.
MS 4B3
Fairfax, VA 22030
Profile
Dr. Elavie Ndura is George Mason Universitys Presidential Fellow for Diversity and Inclusion, and a Professor of Education. In this capacity, she leads Masons implementation of its diversity and inclusion strategic goals, and advise Masons President on inclusive excellence policies and actions. She is an international education expert and practitioner with over 30 years experience in developing, implementing, and leading academic and professional development programs that advance intercultural competence, inclusive excellence, and peacemaking leadership in the U.S. and around the world. Her academic, scholarly, professional, and experiential credentials and commitments align with her life mission to build bridges of caring critical social consciousness and educate for social justice, equity, and peace. She is the founder and coordinator of the Shinnyo Fellowship for Peacebuilding through Service and Education at George Mason University. She has pioneered youth peacemaking leadership development through community engagement in Burundi.
Professor Ndura's signature interdisciplinary research, scholarship, and practice that integrate intercultural peace education and conflict prevention and transformation have been featured in her six books, more than 30 book chapters and professional journal articles, as well as numerous invited presentations and keynote addresses highlighting the central role of formal and non-formal education in peacebuilding and conflict management, with particular focus on Burundi and the African Great Lakes region.
A Fulbright Senior Specialist for education, peace education, and conflict prevention & transformation, Professor Ndura is the recipient of many awards including the 2010-2011 Woodrow Wilson Fellowship at the Woodrow Wilson International Center for Scholars, the Peace and Justice Studies Association's 2011 Peace Educator of the Year Award, the 2008 United Burundian Community Association Imboneza Award, and the 2004 Reno-Sparks NAACP Brown v. Board of Education 50th Anniversary Award.
She holds a Doctorate in Curriculum and Instruction with emphasis in Bilingual and Multicultural Education from Northern Arizona University, USA; a Masters of Education in Teaching English for Specific Purposes from the University of Exeter, England; a Bachelor's degree in Arts and Social Sciences with emphasis in English Language and Literature from the University of Burundi; and a Graduate Certificate in Conflict Resolution Advanced Skills from George Mason University.
Professor Ndura served as Board Member of the Center for Holocaust, Genocide, and Peace Studies as well as President and Founder of the Northern Nevada Chapter of the National Association for Multicultural Education (NAME) for four years in Reno, Nevada. She served on the National Board of the Peace and Justice Studies Association (PJSA) as Publications Chair. She was Program Chair and Chair of the Peace Education Special Interest Group of the American Educational Association (AERA). She also served as Co-Convener of the Peace Education Commission of the International Peace research Association. She is the founder and coordinator of the Burundi Schools Project which seeks donations of dictionaries and other instructional materials to benefit schools in Burundi, Africa.
Research Interests
Diversity, inclusion, and inclusive excellence
Understanding lived experiences and nurturing inclusive communities on college campuses
Advancing peace through education and community engagement
Cultural identity development
Fostering social cohesion through curriculum and pedagogy
Developing caring critical social consciousness
Madiating peace through intergroup dialogue
Recent Publications
Amster, R. & Ndura, E. (Eds.). (In Press). Exploring the power of nonviolence: Peace, politics, and practice for the 21st century and beyond. Syracuse, NY: Syracuse University Press.
Ndura-Ouédraogo, E ., Meyer, M., & Atiri, J. (Eds.). (2011). Seeds bearing fruit: Pan-African peace action for the twenty-first century. Trenton, NJ: Africa World/Red Sea Press.
Ndura-Ouédraogo, E . & Amster, R. (Eds.). (2009). Building cultures of peace: Transdisciplinary voices of hope and action. Newcastle Upon Tyne, UK: Cambridge Scholars Publishing.
Timpson, W. M., Brantmeier, E., Kees, N., Kneller, J., Cavanagh, T., McGlynn, C., Ndura-Ouédraogo, E .. (2009).147 tips for teaching peace and reconciliation. Madison, WI: Atwood Publishing.
Meyer, M. & Ndura-Ouédraogo, E ..(Eds.) (2009).Seeds of new hope: Pan-African peace studies for the twenty-first centuryTrenton, NJ: Africa World Press/Red Sea Press.
Ndura-Ouédraogo, E .. (forthcoming). Critical pedagogy as peace education: Creating hope for the African Great Lakes region<.Charlotte, NC: Information Age Publishing.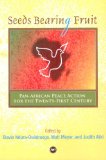 Other Information
Courses Taught
MNPS 700 The New Professionalism: Theory and Practice
MNPS 702 The New Professional as Reflective Practitioner
MNPS 703 Technology in the New Professions
MNPS 704 Research Methodologies in the New Professionalism
IETT 750 Studies in Language and Culture I
IETT 751 Studies in Language and Culture II
IETT 752 Research in Practice: The Team Project
IETT 753 Teaching and Learning
EDRS 597 Independent Study
EDUC 537 Foundations of Multicultural Education
Courses Taught This Semester