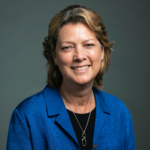 Dr. Elizabeth K. DeMulder
PhD, St. John's College, Cambridge University, England
Professor
Academic Program Coordinator, Transformative Teaching

Contact Information
Phone: (703) 993-8326
Fax: (703) 993-9380
Email: edemulde (@gmu.edu)
George Mason University
Fairfax Campus
Thompson Hall 2505
4400 University Dr.
MS 1E8
Fairfax, VA 22030
Profile
Elizabeth DeMulder is Professor of Education and Academic Program Coordinator of Transformative Teaching (TT), a professional development master's degree program for practicing educators housed in George Mason University's College of Education and Human Development. She earned a Ph.D. in Developmental Psychology from St. John's College, Cambridge University. Dr. DeMulder was a Staff Fellow at the National Institute of Mental Health and initially joined George Mason University under the auspices of the National Science Foundation's Visiting Professorships for Women Program. Dr. DeMulder's research concerns the study of interpersonal relationships in educational contexts, young children's development and early education, and teacher professional development focusing on critical pedagogy, antiracism and social justice issues. She has been involved in community-based action research in Alexandria and in South Arlington, where she developed a family-centered preschool program for low-income, immigrant families as a university/community partnership. Dr. DeMulder co-wrote the book Antiracist Professional Development for In-Service Teachers: Emerging Research and Opportunities (IGI Global 2020), co-edited the book Transforming Teacher Education: Lessons in Professional Development (Bergin and Garvey, 2001) and has published her research in a variety of professional journals, including Child Development, Developmental Psychology, the Journal of Curriculum and Instruction, the Journal of Praxis in Multicultural Education, Democracy and Education, Peace & Change, and Reflective Practice.
Research Interests
Critical pedagogy, antiracist and action research approaches in teacher professional development
Children's social, emotional, and intellectual development and early education
Immigrant families' experiences with early care and education
Qualitative and mixed methods research
Recent Publications
Dodman, S., DeMulder, E.K., View, J.L. (in press). Equity audits: Using data to make theInvisible visible. InterEd. Association for the Advancement of International Education.

Stribling, S.M., & DeMulder, E.K. (In press). Critical Literacy in the Second Grade Classroom: Processes and Challenges. Critical Literacies: Theories and Practices.

Dodman, S., DeMulder, E.K., View, J.L., Swalwell, K., Stribling, S.M., Ra, S. and Dallman, L.(2019). Equity Audits as a Tool of Critical Data-Driven Decision Making: Preparing Teachers to See Beyond Achievement Gaps and Bubbles. Action in Teacher Education.

DeMulder, E.K., View, J.L. & Stribling, S.M. (2016). Teacher Leadership in International Schools: Opportunities and Limitations. 50thAnniversary InterEd Edition of the Association for the Advancement of International Education, 100-103.

View, J., Hall, B., DeMulder, E.K., Stribling, S.M., Dodman, S., Swalwell, K., & Ra, S. (2016). Equity audit: A teacher leadership tool for nurturing teacher research. The Educational Forum.

DeMulder, E.K., Stribling, S.M., & Dallman, L.(2016). Promoting global competence and social justice in teacher education: Successes and challenges within local and international contexts, by D. Schwarzer and B.L. Bridglall [Book Review]. Teachers College Record, Date Published: January 12, 2016 http://www.tcrecord.orgID Number: 19286

Stribling, S.M., DeMulder, E.K., Barnstead, S., & Dallman, L. (2015). The teaching philosophy: An opportunity to guide practice or an exercise in futility? The Teacher Educators' Journal. 26 (1), 37-50.

DeMulder, E.K., Stribling, S.M., & Day, M. (2014). Examining immigrant experiences: Helping teachers develop as critical educators. Teaching Education, 25(1), 43-64. DOI:10.1080/10476210.2012.743984

Stribling, S.M. & DeMulder, E.K. (2014). "Dear Sophia, I'm going to another world": Transforming literacy practices in early childhood. In Lawrence, S. (Ed.), Critical Practices in P-12 Education (pp. 118-141). Hershey, PA: IGI Global.
Campus Affiliations
Teaching Culturally, Linguistically Diverse & Exceptional Learners
Courses Taught This Semester
Other Courses Taught
Introduction to IETT (IETT 500)
Studies in Language and Culture I (IETT 750)
Studies in Language and Culture II (IETT 751)
Research in Practice: The Team Project (IETT 752)
Teaching and Learning (IETT 753)
The New Professionalism: Theory and Practice (MNPE 700)
The New Professional as a Reflective Practitioner (MNPE 702)
Technology and Learning in the New Professions (MNPE 703)
Research Methodologies in the New Professionalism (MNPE 704)