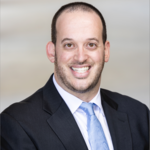 Mr. Daniel Minot
(he/him/his)
MEd, The George Washington University

Assistant Dean, CEHD Student and Academic Affairs

Contact Information
Phone: 703-993-1657
Fax: 703-993-2082
Email: dminot (@gmu.edu)
George Mason University
Fairfax Campus
Thompson Hall 2304
4400 University Dr.
MS 4B4
Fairfax, VA 22030
Profile
Daniel Minot is the Assistant Dean for Student and Academic Affairs within the College of Education and Human Development at George Mason. In this role, he manages the CEHD Student Success Team within the Office of Student and Academic Affairs, and leads efforts to enhance the student experience by addressing barriers to success; facilitating student engagement, belonging, and retention; and engaging with CEHD leadership to further the strategic goals of the college while representing CEHD on key and relevant university committees to champion student success initiatives. He provides leadership for the college in the areas of: academic advising; case management for students of concern; student enrichment and signature events; scholarship administration; academic policies, procedures, and exceptions; appeals and grievances; and other student affairs functions.
Minot has nearly 15 years of professional experience in teaching, advising, and counseling. He comes to Mason from the Georgetown University, McDonough School of Business, where over a 6 year period, he served as Assistant Dean for Undergraduate Programs, Director of the Business Scholars Program, and Senior Associate Director and Academic Counselor. He previously impacted the lives of high school students as a College Counselor at KIPP DC College Preparatory Academy and School Without Walls High School; and supported undergraduate and dual enrollment students as a GW Early College Program and Undergraduate Academic Advisor with George Washington University. He began his career in education as a high school Spanish teacher in Prince George's County Public Schools in Maryland. He is dedicated to providing holistic support for students, empowering them to pursue their goals while prioritizing self-care and wellness as they chart their own path at George Mason.
He holds a MA in Education and Human Development, School Counseling from George Washington University; a MA in Teaching, Secondary Spanish Education from American University; and a BA in Political Science and Spanish from Washington University in St. Louis. He is a Teach for America alum who remains passionate about college access; advocating for diversity, equity, inclusion, and belonging in higher education; and supporting first-generation students with the transition to college.