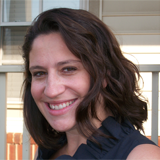 Contact Information
Phone: (703) 993-5596
Fax: (703) 993-3643
Email: ddamico2 (@gmu.edu)
George Mason University
Fairfax Campus
West Building 2006
4400 University Dr.
MS 6D2
Fairfax, VA 22030
Profile
Diana D'Amico is an assistant professor in the College of Education and Human Development at George Mason University. A fellow in the Center for Education Policy and Evaluation, Dr. D'Amico is also a faculty affiliate in Mason's Department of History and Art History and the Women's and Gender Studies Program. Dr. D'Amico's research focuses on the history of education reform, the development of school policies for students and teachers, and the public schools as social institutions that both reflect and imact broader discussions around race and equity. As a historian, Dr. D'Amico uses her scholarship to cast fresh light on present debates and issues ranging from teacher tenure, to hiring practices, to the very notion of the "achievement gap." Her work has been published in Harvard Educational Review, American Educational Research Journal, and History of Education Quarterly, as well as several other outlets. Her research has also been featured in The Huffington Post and The Washington Post. Dr. D'Amico is currently writing a book titled "Blaming Teachers: Professionalization and the Failure of Education Reform in American History."
At Mason, Dr. D'Amico teaches doctoral level courses in education policy, history of education and research methods. In 2017, she was named a George Mason University Teacher of Distinction.
Dr. D'Amico completed her doctoral degree at New York University. Her dissertation was supported by a Spencer Fellowship and received the Politics of Education Association's Outstanding Dissertation Award.
Research Interests
The history of education and education policy
The history of teachers and teaching
Teacher hiring and workforce policies
Teacher professionalization
Teacher training
Teacher unions and associations
Recent Publications
D'Amico, D. (Forthcoming). An uneasy union: Women teachers, organized labor and the contested ideology of profession during the Progressive Era. LABOR: Studies in Working-Class History of the Americas.
D'Amico, D., Pawlewicz, R., Earley, P., and McGeehan, A., (2017) Where Are All the Black Teachers? Discrimination in the Teacher Labor Market. Harvard Educational Review: Spring 2017, Vol. 87, No. 1, pp. 26-49.
D'Amico, D. (2016). Teachers' rights versus students' rights: Race and professional authority in the New York City public schools, 1960-1986. American Educational Research Journal, 53(3), 541-573.
D'Amico, D. (2015). "An old order is passing": The rise of applied learning in university-based teacher education during the Great Depression. History of Education Quarterly, 55(3), 319–345.
Horsford, S., & D'Amico, D. (2015). The past as more than prologue: A call for historical research. International Journal of Educational Management, 29(7), 863–873. http://doi.org/10.1108/IJEM-05-2015-0062
D'Amico, D. (2014). The myth of teacher tenure. Teachers College Record. http://www.tcrecord.org \ID Number: 17620.