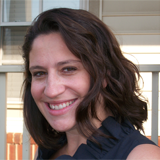 Contact Information
Phone: (703) 993-5596
Fax: (703) 993-3643
George Mason University
Fairfax Campus
West Building 2106
4400 University Dr.
MS 6D2
Fairfax, VA 22030
Profile
Diana D'Amico is an assistant professor of education in the College of Education and Human Development at George Mason University. Dr. D'Amico is an historian of education and education policy. She completed her dissertation, with the support of a Spencer Fellowship, at New York University in 2010. Her dissertation, "Claiming Profession: The Dynamic Struggle for Teacher Professionalism in the Twentieth Century," received the Politics of Education Association's Outstanding Dissertation Award.
Dr. D'Amico's research examines the development of policy questions surrounding teacher quality and professionalism over the twentieth century, as well as the ways in which the historic organizational structure of the schools informs teacher professionalization. Dr. D'Amico uses this historical framework to engage current policy debates. Her book project is titled _The Failure of Teacher Professionalization: A History_. Dr. D'Amico is also at work on another large-scale project that examines the profile characteristics of teacher applicants in a larger school district.
Housed in the Education Policy Program and affiliated with the History Department, Dr. D'Amico teaches doctoral courses that examine the historical, social and political forces that shape schooling and school policy in the United States. Before arriving at GMU she spent a postdoctoral year at Brown University as a Visiting Assistant Professor. 
Research Interests
The history of education and education policy
The history of teachers and teaching
Teacher quality and assessment
Teacher applicant characteristics
Teacher professionalization
Teacher training
Teacher unions and associations