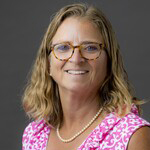 Contact Information
Phone: (703) 993-3579
Fax: This information is not available
Email: dbanvill (@gmu.edu)
George Mason University
Fairfax Campus
RAC 2107
4400 University Dr.
MS 1F6
Fairfax, VA 22030
Profile
Dr. Banville is the Academic Program Coordinator for the Health and Physical Education Licensure Program.
Since July 2016, Dr. Banville also serves as the Faculty Athletic Representative for George Mason University. In that role she evaluates and ensures that academic integrity of the intercollegiate athletics program, facilitates institutional control of athletics, and works at enhancing the student-athlete experience.
Dr. Banville research interests focus on the curriculum and Instruction of physical education in the schools, and the preparation, induction, and professional development of physical education teachers. She has investigated the impact of a teacher induction program on teacher success and retention in the profession, and is currently looking at the training of cooperating teachers, and the impact of the implementation of an after-school curriculum on low socio-economic kids. She is a member of many professional associations (SHAPE America, AERA, AIESEP, VAHPERD) and a fellow of the Research Consortium of the American Alliance for Health, Physical Education, Recreation and Dance (AAHPERD - now SHAPE America).
Research Interests
Middle and High School Physical Education
Teacher preparation and professional development
Teacher induction programs
Recent Publications
Marttinen, R., Daum, D., Banville, D., & Fredrick, R. (2019) Pre-service teachers learning through service-learning in a low SES school, Physical Education and Sport Pedagogy, DOI: 10.1080/17408989.2019.1670153
Banville, D., Dyson, B., Kulinna, P.H., & Stylianou, M. (2019) Classroom Teachers' Views of Pupils' Health and Wellness: An Aotearoa New Zealand Perspective. European Physical Education Review. DOI: 10.1177/1356336X19867731Kulinna, P. H., Stylianou, M., Dyson, B., Banville, D., Dryden, C, & Colby, R. (2018). The effect of authentic accute physical education session of dance on elementary student's selective attention. BioMed Research International, 2018, 8 pages. doi: 10.1155/2018/8790283.
Banville, D., Kulinna, P.H., Dyson, B., Colby, R., Stylianou, M., & Dryden, C. (2016). Feeling refreshed: Aotearoa/New Zealand Students' perceptions of the role of healthy behaviors in schools. European Physical Education Review, 1-19. doi: 10.1177/1356336X15624895
Banville, D. (2015). Novice physical education teachers learning to teach. Journal of Teaching in Physical Education, 34, 259-277.
Banville, D., White, C. S, Fox, R.K. (2014). Teacher Development during Advanced Master's Course Work and Impact on Their Learning a Year Later. The Physical Educator, 7, 558-579.
Rikard, G.L., & Banville, D. (2010). Effective Mentoring: Critical to the Professional Development of First Year Physical Educators. Journal of Teaching in Physical Education, (29), 245-261.
Banville, D., & Rikard. G.L. (2009). Teacher Induction-Implications for physical education teacher development and retention. Quest, 61, 237-256.
Banville, D., & Polifko. M. (2009). Using digital video recorders in physical education to enhance and improve the learning environment. JOPERD, 80 (1), 17-21.
Rikard, L., & Banville, D. (2006). High school student attitudes about physical education. Sport, Education, and Society, 11, 385-400.
Banville, D. (2006). Analysis of exchanges between novice and cooperating teachers during internships using th NCATE/NASPE standards for teacher preparation in physical education as guidelines. Research Quarterly in Exercise and Sport, 77, 208-221.