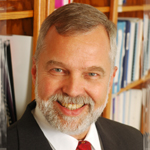 Contact Information
Phone: (703) 993-3698
Fax: (703) 993-5575
George Mason University
Fairfax Campus
OCL 201E
4400 University Dr.
MS 1F5
Fairfax, VA 22030
Office Hours
By appointment Monday and Wednesday 8:30 a.m. - 12:00 p.m., Tuesday and Thursday 8:30 a.m. - 4:00 p.m.
Curriculum Vitae
Profile
Dr. Anderson combines scholarly research with applications at the local, state and national level. As Director of the Center for the Advancement of Public Health [www.caph.gmu.edu], he directs numerous research and community service projects. His research emphasizes college students, school and community leaders, youth, program planners, and policy makers.
Dr. Anderson co-authors national surveys on drug/alcohol prevention efforts, at the college, community college and secondary school level. He is co-director of the Understanding Teen Drinking Cultures in America project, a research initiative involving quantitative and qualitative strategies [see http://teenalcoholcultures.gmu.edu]. He co-authors the College Alcohol Survey, the nations longitudinal survey of four-year college efforts addressing alcohol, drug, tobacco and violence (1979 - 2009). He co-directed the Promising Practices: Campus Alcohol Strategies project which includes a family of resources (Sourcebook, Task Force Planner, and Action Planner) [see www.promprac.gmu.edu]. His award-winning project Healthy Expectations, with COMPASS: A Roadmap to Healthy Living, emphasizes life health planning and healthy transitions to college; this has resulted in a resource guide [COMPASS Roadmap: Destination Health] helpful for organizations seeking to replicate the initiative [see www.compass.gmu.edu]. He recently publlished Best of CHOICES: Alcohol Education 1998-2008 with the National Collegiate Athletic Association. Prior to arriving at Mason in 1987, he served as a student affairs administrator at Ohio University, Radford University, and The Ohio State University.
Research Interests
College and youth substance abuse prevention strategies
Technology and health promotion
Health and safety communication
Holistic health
Strategic planning and organization change
Needs assessment
Program evaluation
Accountability
Recent Publications
COMPASS Roadmap: Destination Health (replication guide)
COMPASS: A Roadmap to Healthy Living (online and CD-Resource, 2008 and 2005)
Best of CHOICES: Print and DVD Resource
IMPACT Evaluation Resource
STEP (Seniors and Trauma survivors Empowerment Program) Peer Companion Curriculum
Loudoun Youth Study 2006: Report of Findings
2009 College Alcohol Survey (1979 - 2009)
The Alcohol Summit: A Roadmap for Fraternities and Sororities
Best Practices: Strategies, Insights and Applications for Addressing Alcohol Issues with Fraternities and Sororities on Americas College and University Campuses
Sourcebook 2001, Promising Practices: Campus Alcohol Strategies
Distracted Driving: Review of Current Needs, Efforts and Recommended Strategies
"Drugs, Alcohol and Youth: Strategies to Make a Difference"
"Virginias College Students: Reversing Alcohol and Other Drug Abuse Problems"
"Virginia College Alcohol Abuse Prevention Standards"
"Drugs, Alcohol and Youth: Strategies to Make a Difference"
Steps for Developing a Comprehensive Campus Alcohol Abuse Prevention Program: An Action Planner