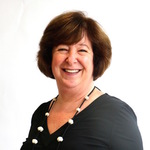 Ms. Carmen F. Rioux-Bailey
EdS, The George Washington University
Instructor
Special Education
Special Education: General Curriculum

Contact Information
Send email to Ms. Rioux-Bailey
Phone: (703) 993-9548
Fax: (703) 993-3681
Email: criouxba (@gmu.edu)
George Mason University
Fairfax Campus
Finley Building 205A
4400 University Dr.
MS 1F2
Fairfax, VA 22030
Profile
Carmen serves as Instructional Faculty for the Graduate School of Education at George Mason University. She teaches Special Education courses for students seeking initial teacher licensure and/or a Master's Degree in Education
Carmen received a B.A. in Special Education from Marymount University, a M.Ed. in Education Leadership from George Mason University, and an Ed.S. in Special Education Leadership from The George Washington University.
Carmen began her career as a public school educator for students with disabilities. After teaching for twelve years, Carmen provided technical assistance and consultation services for the Virginia Department of Education through the Region 4 Training and Technical Assistance Center. She then served as the project coordinator for an OSEP-sponsored research study that examined the inclusion of students with disabilities in Title I schools and also coordinated a Department of Labor project aimed at improving services to youth with disabilities in WIA-funded workforce programs. Upon her return to GMU, Carmen became the Director of the GMU LIFE Program; a model postsecondary program for students with intellectual disabilities, and then joined the Special Education program as an Instructor.
Carmen is a founder of, and continuing advisor to, two IB public charter schools in Washington, DC. Washington Yu Ying serves grades Preschool to 5 in a 50-50 mandarin immersion environment, and DC International School serves grades 6-12 and offers partial immersion in Mandarin, Spanish, and French.
Research Interests
China/US Education
Students with ELN in International Education
Creating LRE Through the Creation of Least Restrictive Environments in Public Charter Schools
Inclusion of students with disabilities in Charter Schools
Inclusion of students with disabilities in language immersion programs
Inclusion of students with disabilities in International Baccalaureate programs
Transition Systems Change and Interagency Collaboration
Self-Determination and Person-Centered Planning
Disability Policy
Family/Sibling Supports
Recent Publications
Rioux-Bailey, C. (2004). Relish is for More than Hot Dogs: Helping Students Make Their Own Sweet Success. National Dissemination Center for Children with Disabilities (NICHCY). Technical Assistance Guide (4).
Rioux-Bailey, C. (2004). Students with Disabilities and Access to Community College: Continuing Issues and New Directions. National Clearinghouse on Postsecondary Education for Individuals with Disabilities (HEATH).
Mattson, B. Knab, J., and Rioux-Bailey, C. (2003). Case Study Report of Lowell Elementary School: Including students with disabilities in Comprehensive School Reform Demonstration Grants. Arlington , VA. RMC Research Corporation.
Other Information
Instructor: EDSE 401, 428, 440, 501, 540, 544, 628, 629, 662, 743. EDUC 203
Topics of recent Conference Presentations:
Identifying and Serving Learners with ELN in International Education
Evidence-Based strategies in Foreign Language/immersion classrooms
Best Practices in Transition
Self-Determination
Sibling and Family Issues
Learning Strategies
Postsecondary Education for Students with Significant Disabilities
Interagency Collaboration
Campus Affiliations
Teaching Culturally, Linguistically Diverse & Exceptional Learners
Other Courses Taught
Elementary Reading, Curriculum, Strategies for Students Who Access the General Education Curriculum (EDSE 428)
Characteristics of Students with Disabilities Who Access the General Curriculum (EDSE 440)
Elementary Reading, Curriculum, Strategies for Students Who Access the General Education Curriculum (EDSE 628)
Secondary Curriculum and Strategies for Students with Disabilities who Access the General Curriculum (EDSE 629)
Leadership in Special Education Administration (EDSE 743)
Internship in Special Education (EDSE 790)