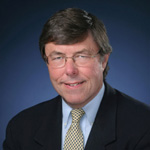 Contact Information
Phone: (703) 993-2060
Fax: (703) 993-2025
Email: ccasser2 (@gmu.edu)
George Mason University
Science and Technology Campus
Katherine G. Johnson Hall 201
10890 George Mason Circle
MS 4E5
Manassas, VA 20110
Profile
After earning an undergraduate degree and his Master's, Charley served as a teacher, coach, guidance counselor and athletic director for two high schools and his alma mater, Springfield College. In 1977, Casserly started his climb up the professional sports ladder, becoming an intern for the Washington Redskins in their scouting office. Charley was promoted to a fulltime position as a scout soon thereafter and became the General Manager of the Redskins in 1989. He held this position with the team for 10 years; during Casserly's 29 years with the Redskins, they made four Super Bowls and won three of them. Subsequent to his tenure with the Redskins, Charley was appointed General Manager for the NFL expansion Houston Texans, where he served in that position until 2006.
Casserly has extensive experience in the television and radio industry. He has worked at one point for most of the major sports networks and their local affiliates in Houston and Washington, D.C. He worked for CBS and their NFL studio show and now is a member of the NFL Network, commenting regularly during football season but also lending his expertise for telecasts about the NFL Combine, NFL Draft, Super Bowl and throughout the off season.
Charley works as a consultant to the NCAA in their Champion's Forum program. The program focuses on the development of football coaches who aspire to become college head coaches. He is also a member of the NFL Career Advisory Committee which is comprised of former NFL Head Coaches and General Managers. They have two functions. They recommend to the NFL owners prospective Head Coaches and General Managers; the Committee also works on the development of the candidates they have recommended.
Professor Casserly is an executive in residence with the Sport Management program at Mason. He has been a valuable member of the faculty since 2007. Charley has helped to provide countless sport management majors with internships and employment opportunities due to his unparalleled access to sports industry executives and coaches across the United States. He is a member of the Springfield College Sports Hall of Fame and the Bergen Catholic Hall of Fame. Casserly was also awarded an honorary doctorate from Springfield College in 2005.
Campus Affiliations
Division of Sport, Recreation, and Tourism
Courses Taught This Semester