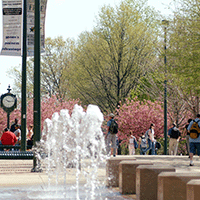 Contact Information
Phone: (703) 994-0176
Fax: (703) 993-3681
Email: bgafurov (@gmu.edu)
George Mason University
Fairfax Campus
Krug Hall 110A
4400 University Dr.
MS 1F2
Fairfax, VA 22030
Recent Publications
Levin JR, Ferron JM, Gafurov BS. Additional comparisons of randomization-test procedures for single-case multiple-baseline designs: Alternative effect types. Journal of School Psychology. 2017. 63: 13–34
Levin JR, Ferron JM, Gafurov BS. Comparison of Randomization-Test Procedures for Single-Case Multiple-Baseline Designs. Developmental Neurorehabilitation. 2016. 1:1-21.
Levin JR, Ferron JM, Gafurov BS. Improved Randomization Tests for a Class of Single-Case Intervention Designs. Journal of Modern Applied Statistical Methods. 2014. 13(2):2-52.
Levin RL, Evmenova AS, Gafurov BS. The single case data analysis ExPRT (Excel Package of Randomization Tests). In "Single Case Intervention Research: Methodological and Statistical Advances". Edited by Kratochwill TR and Levin RJ. American Psychological Association, Washington DC. (2014) pp.185-221.
Gafurov B, Bausch S. GABAergic transmission facilitates ictogenesis and synchrony between CA3, hilus, and dentate gyrus in slices from epileptic rats. J Neurophysiol. 2013. 110(2):441-55.
Campus Affiliations