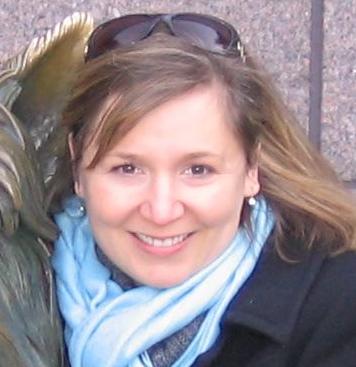 Contact Information
Phone: (703) 993-5257
Fax: (703) 993-5300
Email: award12 (@gmu.edu)
George Mason University
Fairfax Campus
Thompson Hall 1603
4400 University Dr.
MS 4B3
Fairfax, VA 22030
Research Interests
Drawing from my background as a kindergarten teacher in a Title I urban school, I am interested in improving the literacy outcomes for all students, particularly in the areas of vocabulary and academic language development through interactive reading and related activities. Students need excellent teachers who are supported with effective professional development and ongoing support from literacy specialists and instructional coaches, and so my research also explores aspects of teaching and leadership. I enjoy collaborating with others to advance my research agenda. I currently have multiple projects in various stages of data collection and analysis:
1. I'm investigating literacy coaching development, examining the processes through which teachers learn to become literacy leaders.
2. I'm exploring the types and amounts of elementary reading instruction in schools with colleagues Kristin Conradi Smith at the College of William and Mary and Margaret Vaughn at the University of Idaho.
3. I'm exploring elementary students' engagement to read fiction and nonfiction with a diverse team of researchers across the United States.
4. I'm investigating the effects of longitudinal literacy professional development with a diverse team of Mason colleagues and recent Mason graduates.
5. I'm exploring adaptability in teachers' instruction as a way to build their awareness of effective teaching that meets students' identified needs. This work is part of a larger research agenda led by Mason colleague Seth Parsons.
In order to be a more effective professor, I find it important to study my own teaching and learning through self-study. Much of my research employs design-based research methods, surveys, and qualitative methods.
Recent Publications
Parsons, A. W., Parsons, S. A., Malloy, J. A., Marinak, B. A., Reutzel, D. R., Applegate, M. D., Applegate, A. J., Fawson, P. C., Gambrell, L. B. (in press). Upper elementary students' motivation to read fiction and nonfiction. Elementary School Journal.
Parsons, S. A., Vaughn, M., Scales, R. Q., Davis, S. G., Gallagher, M*., Parsons, A. W. Pierczynski, M.*, & Allen, M. (in press). Teachers' instructional adaptations: A research synthesis. Review of Educational Research.
Parsons, S. A., Malloy, J. A., Parsons, A.W., Burton, E. P., & Burrowbridge, S. C. (in press). Sixth-grade students' engagement in academic tasks. Journal of Educational Research. doi:10/1080.00220671.2016.1246408
Parsons, A. W., & Hjalmarson, M. (2017). Design-based research in self-study: Online instruction. Studying Teacher Education, 13, 331-349. doi: 10.1080/17425964.2017.1365699
Malloy, J. A., Parsons, A.W., Marinak, B., Applegate, T., Applegate, M., Reutzel, D. R., Parsons, S. A., Fawson, P., Roberts, L., & Gambrell, L., (2017). Assessing (and Addressing!) Motivation to Read Fiction and Non-Fiction. The Reading Teacher, 71, 309-325. doi: 10.1002/trtr.1633.