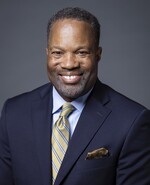 Contact Information
Phone: (703) 993-3633
Fax: This information is not available
Email: aterrel1 (@gmu.edu)
George Mason University
Fairfax Campus
Thompson Hall 1300
4400 University Dr.
MS 4C2
Fairfax, VA 22030
Profile
Prior to coming to George Mason, Dr. Terrell served as the principal of Mount Vernon High School in Alexandria, VA. He spent over 20 years working in Fairfax County Public Schools (FCPS). Prior to going to Mount Vernon, he served as principal of Rocky Run Middle School and as assistant principal at Fairfax High and Cooper Middle Schools. Before becoming a school administrator, he taught English for Speakers of Other Languages (ESOL) in traditional and alternative high schools. Between teaching assignments, he worked as a test administration specialist in the Department of Educational Accountability of FCPS. He left FCPS for a brief time to become the first Director of High School Placement for KIPP DC: Key Academy Public Charter School in Washington, DC.
A former naval officer, Dr. Terrell is a Desert Storm and Iraq war veteran. After his active service, he joined the Naval Reserve, where he completed tours in naval aviation and in the Naval Expeditionary Logistics Support Force. He has also worked as a project manager for computer systems integration consulting firms.
Dr. Terrell holds a B.S. in Business Administration from The Citadel, an M.Ed. in Secondary Education from George Washington University, and a Ph.D. in Education Leadership from George Mason University, where he served as an adjunct professor prior to being appointed an Assistant Professor. He is a proud native of Baltimore, MD.
Research Interests
Turnaround Leadership (Secondary Schools)