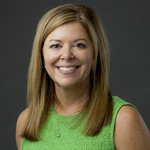 Contact Information
Phone: (703) 993-9717
Fax: (703) 993-2013
George Mason University
Fairfax Campus
Thompson Hall 1805
4400 University Dr.
MS 4B3
Fairfax, VA 22030
Curriculum Vitae
Profile
Audra Parker is an Associate Professor in the College of Education and Human Development. She joined the faculty in the fall of 2013 as a faculty member and Academic Program Coordinator in Elementary Education. She teaches graduate courses in curriculum, instruction, management, differentiation, and teacher education. In addition, she collaborates with teachers and interns at a Professional Development School (PDS) site.   Her current research projects, collaborative efforts with colleagues and doctoral students, include the following:  deparmentalized and self contained structures in elementary schools, inquiry based instruction in pre-service teacher education, the use of video in teacher preparation, and PDS language and structures. Prior to her doctoral studies, Audra taught students in grades 4-7 in both Virginia and Georga. Audra has received outstanding teaching awards at every stage of her career (P-12, graduate school, and faculty).  Most recently (2015), she was named a Clinical Practice Fellow by the Association of Teacher Educators.
Research Interests
Elementary teacher preparation in PDS settings

Teacher preparation and study abroad experiences

Innovations in teacher education, co-teaching

K-8 teacher practices

Departmentalization/self contained practices in elementary settings

Young adolescents' school experiences
Recent Publications
Parker, A. K., Bush, A., & Yendol-Hoppey, D. Understanding teacher candidates; engagement with inquiry-based professional development: A continuum of responses and needs. The New Educator (anticipated Volume 12, 2016).
Gelfuso, A., Dennis, D. V., & Parker, A. K., Turning teacher education upside down: Enacting the inversion of teacher preparation through the symbiotic relationship of theory and practice. The Professional Educator (accepted January 2015).
Parker, A. K., Schneider, J. J., & Berson, I. (accepted October 2014). Intentionality of Preparation: Systematic Mentorship in Doctoral Education. Studies in Graduate and Professional Student Development.
Han, H. J., Parker, A. K., & Berson, I. Partnerships across programs and schools: Fostering collaboration in shared spaces. School University Partnerships (November, 2014).
Parker, A. K., McHatton, P. A., & Crisp, T. (2014). Conceptualizing difference: Pre-service teachers' constructions of disabilities. Teacher Education and Practice 27(1), 138-153.
Rakes, L. C. & Parker, A. K. (March, 2014). Reaching young adolescents: Developing relationships for classroom management. AMLE Magazine.
McHatton, P. A. & Parker, A. K. (2013). Purposeful preparation: Longitudinally exploring inclusion attitudes of general and special education pre-service teachers. Teacher Education and Special Education, 36(3), 186-203.
Gelfuso, A., Dennis, D. V., & Parker, A. K. (2013). Conducting empirical research in professional development schools: It can be done! PDS Partners 9(1).
McHatton, P. A., Parker, A. K., & Vallice, R. (2013).  Critically reflective practitioners: Exploring our intentions as teacher educators. Reflective Practice: International and Multidisciplinary Perspectives, 14(3), 392-405.
Schneider, J. J., & Parker, A. K. (2013). Conversations in a pub: Peer relief and the reflexive possibilities for two teacher educators supervising a study abroad program for pre-service teachers. The Qualitative Report, 18(16).
Franco, Y., Fernandez, J., Gelfuso, A., Hagge, J., Powell, R., Ward, J., Dennis, D., Parker, A. K., & Yendol-Hoppey, D. (2013). Exploring the signature pedagogy of preservice teacher learning in partnership-based teacher education. PDS Partners, 8(3).
Parker, A. K., McHatton, P. A., & Allen, D. (Spring 2012). Elementary and special education pre-service teachers understandings of collaborationand co-teaching. Journal of Research in Education, 22, 1. Available at http://www.eeraonline.org/journal/v22n1.cfm. 
Courses Taught This Semester