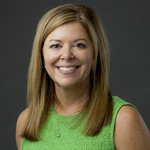 Contact Information
Phone: (703) 993-9717
Fax: (703) 993-2013
Email: aparke19 (@gmu.edu)
George Mason University
Fairfax Campus
Thompson Hall 1805
4400 University Dr.
MS 4B3
Fairfax, VA 22030
Curriculum Vitae
Profile
Audra Parker is an Associate Professor in the College of Education and Human Development. She joined the faculty in the fall of 2013 as a faculty member and Academic Program Coordinator in Elementary Education. She teaches graduate courses in curriculum, instruction, management, differentiation, and teacher education. In addition, she collaborates with teachers and interns at a Professional Development School (PDS) site. Her current research projects, collaborative efforts with colleagues and doctoral students, include the following: departmentalized and self contained structures in elementary schools, inquiry based instruction in pre-service teacher education, the use of video in teacher preparation, and PDS language and structures. Prior to her doctoral studies, Audra taught students in grades 4-7 in both Virginia and Georgia and has received outstanding teaching awards at every stage of her career (P-12, graduate school, and faculty). Most recently, Audra was named to the AACTE Clinical Practice Commission and serves as an ATE Clinical Fellow.
Research Interests
Elementary teacher preparation in PDS settings

Teacher preparation and study abroad experiences

Innovations in teacher education, co-teaching

K-8 teacher practices

Departmentalization/self contained practices in elementary settings

Young adolescents' school experiences
Recent Publications
Parker, A. K., Zenkov, K., & Dennis, D.V. (in press). Exploring the lexicon or lack thereof in clinical teacher preparation. Action in Teacher Education.
Parsons, S., Parker, A. K., Zenkov, K. , +Erbrecht, A., +Kraft, J., & +Slattery, C. School-University Partnerships as a Means to Recruiting and Retaining Effective Teachers. Submitted to PDS Partners (Spring, 2018).
Zenkov, K., Dennis, D.V., & Parker, A. K. Bless your heart," BBQ, and clinical practitioners as neologists: Developing a lexicon for clinical practice. Accepted to School University Partnerships (Anticipated 2019).
Parker, A. K., Groth, L., and -Byers, C. Designing and implementing site-based course instruction. Accepted to The New Educator (Anticipated 2019).
Zenkov, K., Parker, A. K., Parsons, S., Stunkard, C., & Keifer-Kennedy, M. (Summer, 2018). A snapshot of the Clinical Practice Commission's report on clinical teacher preparation. PDS Partners, 13(3), 1-4.
Parker, A.K. Ferguson, L., Daoud, N., Doyle, M., Sokolowski, C., Stoffel, A., Paraiso, L., Janofsky, M., Paraiso, L., & Whelan, K. (anticipated Fall, 2017). The yearlong internship model as a catalyst for building and sustaining partnership PDS Partners.
Parker, A. K., Rakes, L., & Arndt, K. (July, 2017). Departmentalized, self-contained, or somewhere in between: Decision-making behind elementary grade level organization. The Educational Forum, 81, (3), 236-255.
Parker, A. K., Parsons, S. A., Groth, L, and Levine-Brown, E. (2016). Pathways to partnership: A developmental framework for building PDS relationships. School University Partnerships—Special Issue, "What is a PDS?" 9 (3), 34-48.
Parsons, S. A., Parker, A. K., Brunying, A., and Daoud, N. (2016). Striving to enact the Professional Development School philosophy: George Mason University's Elementary Education program. The Teacher Educators' Journal, Volume 9.
Parker, A. K., Bush, A., & Yendol-Hoppey, D. (2016) Understanding teacher candidates' engagement with inquiry-based professional development: A continuum of responses and needs. The New Educator, 12, (3), 221-242. Parker, A., & Zenkov, K. (2017). Preface. In D. Yendol-Hoppey and D. Hoppey (Eds.), Working together: Enhancing urban educator quality through partnerships. Charlotte, NC: Information Age.
Zenkov, K., Parker, A.K., Parsons, S., Pellegrino, A., Pytash, K. (2017). From project based clinical experiences to collaborative inquiries: Pathways to Professional Development Schools. In J. Ferrara, J. Nath, I. Guadarrama, & R. Beebe (Eds.), Expanding opportunities to link research and clinical practice: A volume in Research in Professional Development Schools, p. 9-33. Charlotte: Information Age
Parker, A. K., Webb, K. & Wilson, E. V. Creating a studying abroad experience for elementary teacher candidates: Considerations, challenges, and impact. In H. An (Ed.) Handbook of Research on Efficacy and Implementation of Study Abroad Programs for P-12 Teachers. IGI Global. (2017).
Courses Taught This Semester