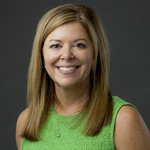 Contact Information
Phone: (703) 993-9717
Fax: (703) 993-2013
Email: aparke19 (@gmu.edu)
George Mason University
Fairfax Campus
Thompson Hall 1805
4400 University Dr.
MS 4B3
Fairfax, VA 22030
Profile
Audra Parker is a Professor in the College of Education and Human Development. Dr. Parker joined the faculty in the fall of 2013 as a faculty member and Academic Program Coordinator in Elementary Education. In January 2020, Dr. Parker also assumed the role of Professor in Charge of the Teaching and Teacher Education specialization in the PhD in Education program.
Dr. Parker teaches graduate courses in curriculum, instruction, management, differentiation, and teacher education and collaborates with teachers and interns at Garfield Elementary, a Professional Development School (PDS) site. Her current research projects, collaborative efforts with colleagues and doctoral students, include the following: elementary teacher preparation, clinically-centered teacher education, elementary organizational structures (departmentalization/self-contained classrooms). Prior to her doctoral studies, Dr. Parker taught students in grades 4-7 in both Virginia and Georgia and has received outstanding teaching awards at every stage of her career (P-12, graduate school, and faculty).
In addition to service activities in the School of Education, Dr. Parker is actively involved in national teacher education organizations (AACTE, ATE, and NAPDS). In each of these organizations, Dr. Parker has served in leadership roles that advance the field of clinical teacher preparation (AACTE Clinical Practice Commission, ATE Clinical Fellow, ATE Task Force on Addressing the Needs of Mentor Teachers, NAPDS Conference Chair).
Research Interests
Elementary teacher preparation in PDS settings

Teacher preparation and study abroad experiences

Innovations in teacher education, co-teaching

K-8 teacher practices

Departmentalization/self contained practices in elementary settings

Young adolescents' school experiences
Recent Publications
Parker, A.K., Sprague, D. Brown, E. & Casablanca, F. (2020). Leveraging school-university partnerships to support the transition to online learning. In R.E. Ferdig, E. Baumgartner, R. Hartshorne, R. Rakowski & C. Mouza (Eds.), Teaching, technology, and teacher education during the COVID-19 pandemic: Stories from the field (pgs. 197-202). Association for the Advancement of Computing in Education (AACE).
Parker, A. K. & Rakes, L. (April, 2020). "I almost changed my major": Teacher candidates' perceptions of grade level organization and its influence on their professional development. Current Issues in Education.
Daoud, N., Parker, A. K., & Leggett, A. (accepted Dec 2019). Extending Clinical Experiences: Supporting Doctoral Students Development as University-Based Teacher Educators in PDS Context. School University Partnership.
Parker, A. K., Zenkov, K., & Dennis, D.V. (2019). Exploring the lexicon or lack thereof in clinical teacher preparation. Action in Teacher Education, 4(3), 249-264.
Zenkov, K., Dennis, D.V., & Parker, A. K. Bless your heart," BBQ, and clinical practitioners as neologists: Developing a lexicon for clinical practice. Accepted to School University Partnerships (Anticipated 2019).
Parker, A. K., Groth, L., and -Byers, C. Designing and implementing site-based course instruction (2019). The New Educator , 15(2), 130-155.
Zenkov, K., Parker, A. K., Parsons, S., Stunkard, C., & Keifer-Kennedy, M. (Summer, 2018). A snapshot of the Clinical Practice Commission's report on clinical teacher preparation. PDS Partners, 13(3), 1-4.
Parsons, S., Parker, A. K., Zenkov, K. , +Erbrecht, A., +Kraft, J., & +Slattery, C. (2018). School-University Partnerships as a Means to Recruiting and Retaining Effective Teachers. Submitted to PDS Partners 13(4), 11-13.
Parker, A. K. +Ferguson, L., -Daoud, N., +Doyle, M., +Sokolowski, C., +Stoffel, A., #Paraiso, L., #Janofsky, M., #Paraiso, L., & *Whelan, K. (Winter, 2018). The yearlong internship model as a catalyst for building and sustaining partnership. PDS Partners, 13(2), 19-21.
Campus Affiliations
Interdisciplinary Center for Research and Development in Teacher Education