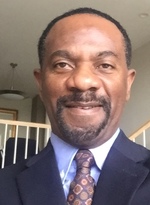 Dr. Alvin Crawley
Ed.D., University of Massachusetts at Amherst
Associate Professor
Education Leadership

Contact Information
Phone: 703-993-5944
Fax: 703-993-3643
Email: acrawle (@gmu.edu)
George Mason University
Fairfax Campus
Thompson Hall 1304
4400 University Dr.
MS 4C2
Fairfax, VA 22030
Profile
Prior to joining Mason's Education Leadership Program faculty in August 2017, Dr. Crawley served 37 years as a PK-12 public school educator working as a special education teacher, speech-language pathologist, school and central office administrator, assistant superintendent and superintendent.
Dr. Crawley's PK-12 experiences include serving as Assistant Superintendent for Student Services and Special Education in the Arlington Public Schools, Assistant Superintendent for Special Education and Gifted Services in the Chicago Public Schools, Interim Superintendent in the Prince George's County Public Schools and Superintendent of Schools in the Alexandria City Public Schools. In addition to teaching and leadership, Dr. Crawley has participated in training special education leaders at the state and local levels, program compliance reviews in school districts, and cultural competence facilitator training including contributing a book chapter in Gaining on the Gap: Changing Hearts and Minds (2011). His college teaching experiences include adjunct faculty positions at the University of Massachusetts at Boston and Lehigh University in Pennsylvania.
His current research interests include teacher and principal leadership development, cultural competence and equity in schools, supervisory behaviors, impact of Every Student Succeeds Act on student services and outcomes, and effective special education service delivery models. He has an earned doctorate degree in Instructional Leadership and Supervision from the University of Massachusetts at Amherst.
Campus Affiliations
Teaching Culturally, Linguistically Diverse & Exceptional Learners
Courses Taught This Semester