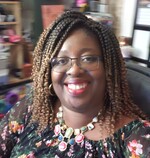 Contact Information
Phone: (703) 993-9047
Fax: (703) 993-1269
Email: aaidoo (@gmu.edu)
George Mason University
Fairfax Campus
Krug Hall 211C
4400 University Dr.
MS 4D2
Fairfax, VA 22030
Profile
Dr. Abena Aidoo, is an Associate Professor in the Tourism & Events Management (TEM) program, in the School of Sport, Recreation, and Tourism Management, at George Mason University (Mason). During the almost 9 years she has been at the University, she has taught a wide variety of courses such as, Heritage and Cultural Tourism, Tourism Planning and Policy, Introduction to Tourism Management, Ecotourism, the Administration of Sport, Recreation, and Tourism Organizations, Women and Tourism, and Film and Tourism.
For about 3 and a half years, Dr. Aidoo served as the Fieldwork Experience Coordinator for the TEM program, during which she revamped the curriculum of the two required internship courses to enhance the overall experience for students and the partner agencies.
In addition to serving on committees at different levels in the University, Dr. Aidoo has sought to work closely with industry partners, participating in a variety of activities, and she currently serves as a board member for the Fairfax County Park Authority.
Prior to coming to Mason, Dr. Aidoo worked on her doctorate degree in Urban Affairs and Public Policy, with an emphasis on Tourism Development, at the University of Delaware (UD). At UD, in addition to the work on her dissertation, she worked with esteemed public service faculty on issues surrounding poverty, including food stamps, the revitalization of an abandoned neighborhood, and housing. She received her Master of Human Resource Development degree from Clemson University, after which she worked as a Residence Life Coordinator at Georgia Institute of Technology. She graduated with a Bachelor of Arts degree in Economics and Psychology from the University of Ghana.
As a Commercial Clerk at the Embassy of the United States in Accra, Ghana, she worked to promote U.S. exports to, and to facilitate U.S. investments in, Ghana. In this position, she was integrally involved in various activities, including the organization of large-scale events for the Department of State and the Department of Commerce, in Accra, Ghana.
Research Interests
Heritage and Cultural Tourism
Tourism Planning and Policy
Tourism as a Socioeconomic Development Strategy
Ecotourism
Tourism in Sub-Saharan Africa
Courses Taught This Semester