College of Education and Human Development
Sport management major and Patriots men's basketball standout shows versatility with boxing internship
By Greg Sullivan
Mason basketball star Justin Kier was named the Atlantic 10's Most Improved Player last season after leading the Patriots in both scoring and rebounds.
But the CEHD student has made other major improvements to his résumé in the past year or so.
Kier, a senior sport management major, recently completed an internship with TITLE Boxing Club Fairfax—that started a couple of weeks after the end of the last college basketball season and ended in mid-July—to fulfill an internship requirement for his sport management major.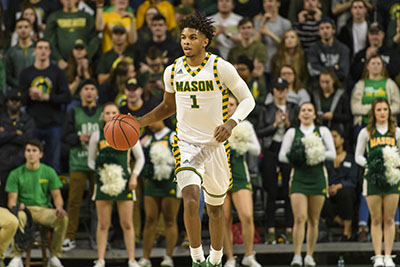 The 6-foot-4 guard said he was just looking to branch out to something outside of basketball since he's around that sport so much.
"I thought boxing would be interesting," Kier said. "I told my advisor I wanted to learn a new sport and challenge myself. I didn't want to go into something I already knew just so it would be easy. I told myself, if I like it, which I did, I would also have some contacts I could come back to."
At least temporarily, it also meant he'd trade the basketball gym for a boxing gym (although, he was still working on his basketball game in the mornings). TITLE Boxing Club has more than 180 locations in North America and offers high-intensity boxing, kickboxing, and mixed martial arts workout classes.
"In the beginning, I started with learning all I could about the business and how to interact with customers, use online programs, and keep track of sales," Kier said. "I learned every aspect of how the business is run and the business environment. The gym's owner would be in every week and I would pick his brain. He taught me what it's like to operate the gym, how payments work, and everything."
All sport management majors at Mason complete an internship as well as an additional work practicum for credit. Duties on the job for the internship are fairly typical of intern-type work, but at Mason, students also are asked to put themselves in the position of being the boss one day, so that they can develop their management and leadership skills in a work environment.
"They're encouraged to network with literally everyone—customers, other interns, clients, their supervisors, other employees, etc. We stress networking in many of our classes," said Craig Esherick, a professor in the Sport Management program. "The interns are encouraged to attend meetings whenever possible, even if they have to invite themselves to the meeting."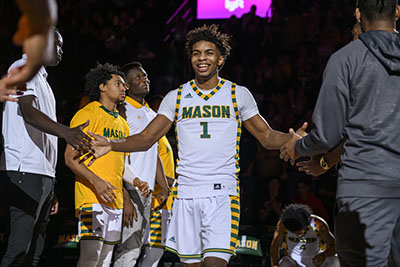 For the class component, interns file a weekly report every Monday, do an oral presentation at the end of the internship experience, put together an internship portfolio, and write a four-page essay as a culmination of their academic experience and work experience at Mason.
Kier said there was a lot to learn on the job, but it turned out to be a great experience, and he was able to make several new friends and connections. "I still eat out near the gym a lot because there are a lot of eating places over there," Kier said. "Whenever I go near there, I stop in and say hello. Some of the people at the gym like basketball and some don't, but I think Mason basketball has picked up a few more supporters. Most of the employees go to Mason or did go to Mason, so I see them around campus."
Previously, Kier completed his practicum, with a class component, with Professor Pierre Rodgers by working at the Mason Rec Camp on campus at Mason's RAC (Recreation and Athletic Complex). The camp is a summer day camp that works with children doing things like swimming, nature walking, team sports, crafts, and music.
Making the most of opportunities
Kier has overcome challenges in his life, and with his hard work his future looks bright, both on the court and off.
He was raised by his grandmother after his mother suffered a medical episode that has left her paralyzed, blind, and unable to speak. He's set to be one of the first in his family to finish college when he graduates in the spring.
The Virginia native said he's taking a busy load of classes this semester and will only have one final class that he can take online in the spring.
That could come in handy as he will likely be busy with workouts from NBA teams or possibly overseas clubs. Kier is an extremely versatile player, and was one of just 11 players nationally last season to average 14+ points, 6+ rebounds, 2.5+ assists, and 1.5+ steals per game.
"I've gotten to know Justin, having seen his demeanor on the court for three years and also having seen his internship presentation," said Professor Robert Baker, who is teaching Kier in a professional development course this semester. "He's a thoughtful contributor to class discussions. He has well-developed interpersonal and leadership skills, whether on the court, in the classroom, and beyond. He's actively preparing for success after he's done playing basketball."
Right now, Kier said he's also very focused on finishing his college basketball career in a strong fashion. "I'm really just focused on having a good senior year and leading this team," Kier said "I'm not praying to be player of the year or win any awards, I just want to win and to do all I can to help my team get better. We want our season to end in March, deep March. I don't want it ending early."
Once it finally does end, though, he'll be prepared.