College of Education and Human Development
School of Education faculty develop a technology-based tool to help students with writing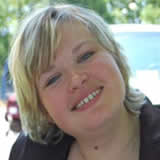 Dr. Anya Evmenova
Dr. Anna (Anya) Evmenova and Dr. Kelley Regan, faculty in George Mason University's School of Education within the College of Education and Human Development, have been awarded a $2.5 million federally funded grant to develop a game-based, technology-based graphic organizer (TBGO) that will help elementary school students with and without high-incidence disabilities improve their writing composition skills. The project is titled WEGO-MEGA: Writing Efficiently with Graphic Organizers – Motivating with Educational Games. Dr. Evmenova and Dr. Regan, both of whom are co-principal investigators in this initiative, are professors in the Special Education program in the School of Education. Dr. Evmenova is also a professor in Mason's Assistive Technology program.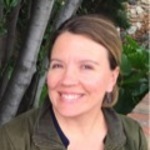 Dr. Kelley Regan
Funding for this grant is provided by the U.S. Department of Education Office of Special Education programs. This work will extend the design and research activities completed in the previous two WEGO (Writing Efficiently with Graphic Organizers) projects. WEGO focuses on the development of technological tools that provide learning support for students with and without disabilities who have difficulty with writing. Upon news of the grant award, Dr. Evmenova commented, "We are honored and excited to further develop our technology-based graphic organizers (or as we call them TBGOs) to include motivating games that will teach students about the writing process. We look forward to seeing many well-written and well-organized essays."
The current Chrome-based application will be designed to provide writing support for elementary school students in grades 3-6 with and without learning disabilities, emotional disturbance, attention deficit hyperactivity disorder, or high-functioning autism. This tool's features will include digital games to scaffold the writing process especially in the areas of brainstorming and editing/revising. The TBGO will also include embedded self-regulated learning strategies, artificial intelligence, universally designed supports, and opportunities for data-driven decision-making to improve student learning.
This grant will include the development of the games, integration of the games into the existing TBGO, and pilot testing of the application with students, teachers, and parents/caregivers. Data on students' writing as well as their usage of the tool will be collected and analyzed to gauge its effectiveness in helping students improve their writing and to identify features or components that may need further refinement in the iterative process. Elaborating further on the utility of the application, Dr. Regan stated, "In addition to supporting kids, the teacher dashboard in the tool will provide teachers and parents/caregivers an opportunity to rely on data to inform individualized and targeted writing instruction."
To learn more about how technology-based graphic organizers are helping students develop better writing skills, please visit the WEGO website. For information on Mason's degree offerings in Special Education or Assistive Technology, be sure to visit the program websites.