College of Education and Human Development
Keeping Fairfax Warm
Mason students in the math methods course taught by Dr. Carley B. Fisher-Maltese, Assistant Professor in the Early Childhood Education program, participated in a project-based learning (PBL) activity in which they learned effective strategies for teaching math to young children and got the opportunity to help Fairfax County's homeless population.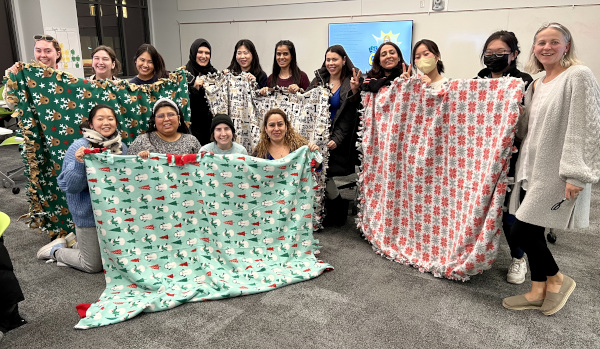 This "hands-on" lesson provided Mason students practical experience on ways to encourage a love of math in young children, prekindergarten through third grade, by presenting them with a real-life problem, such as poverty and homelessness, that needed a solution. In defining the extent of homelessness, the students did research on the Fairfax County website to determine how many people in the community are homeless. This was one of the ways in which data literacy was incorporated into the project.
The students were asked to think of a real-life solution to the problem of homelessness that would require the use of math. Working in groups, the students decided to make fleece blankets that would be distributed to homeless shelters over the holiday season. Once they decided on making blankets, the students utilized math concepts appropriate for third graders that included area, perimeter, and line plots.
This project is yet another example of how Mason is making a positive difference in the community.