College of Education and Human Development
Internship Collaboration
By Greg Sullivan
Natalie Heavren's background is in journalism and sports writing. Alessia Del Romano is a Mason volleyball player with expertise in fundraising and athletic competition. James Finnegan, an Army veteran, is skilled in social media, creating graphics, and a range of other areas.
The three of them, all students in the College of Education and Human Development, were able to put their respective skills to use for a great cause this summer, collaborating as part of a remote internship with USA Boccia and also learning the ins and outs of project management in what has become an increasingly online world due to the coronavirus pandemic.
Boccia is only beginning to emerge as a sport. The game is a precision ball sport for wheelchair athletes, similar to bocce ball, which is better known in the U.S. and even more popular in Europe. Boccia is one of only two Paralympic sports that don't have an Olympic sport counterpart.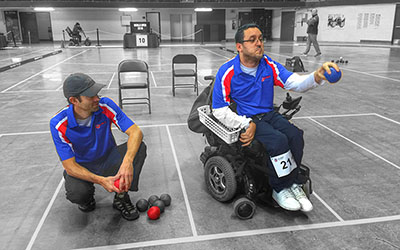 "What we were doing will hopefully have a long-lasting impact on USA Boccia," said Heavren, a 22-year-old from Connecticut working on a master's degree in sport and recreation studies.
The internship ran from early June through late August and culminated in a comprehensive internal research report to serve as the basis of USA Boccia's High Performance Plan submitted to the United States Olympic and Paralympic Committee.
While USA Boccia is based in Denver, due to the coronavirus pandemic the students were able to do their work from their families' homes or their own apartment.
The group researched and agreed on project management software to use for the work, then divvied up the workload for seven reports they'd be responsible for over the course of the summer. Each would complete two reports largely themselves and would collaborate on the heftier seventh report. They also divided social media duties and other work that came through, regularly sending Google docs back and forth and holding video meetings with each other and with David McCann, who leads the non-profit organization.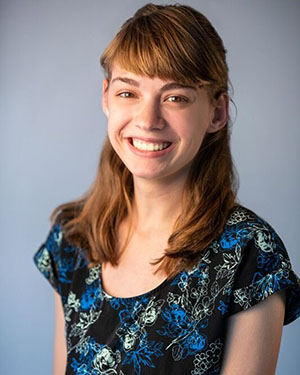 Natalie Heavren
"There were all these different little things I learned by researching for my work that I wouldn't have learned otherwise," Heavren said. "It was really cool to be able to see how sports organizations work from the inside and be able to contribute by doing research and making recommendations. I can't wait to watch USA Boccia grow as we inch toward 2024."
For the 2024 Paralympic Games in Paris, USA Boccia hopes to land its first American boccia athletes. The following summer games in 2028 will be held in Los Angeles, which means the United States will automatically qualify for the sport with the games taking place on home soil.
Del Romano, a rising senior majoring in sport management, said there was a lot to think through operationally right now for when competition ramps up following coronavirus changing the sporting landscape, which was the topic of one of her reports.
"How are events going to go? How are you going to manage to have spectators or not have spectators? There are a lot of things to go through," said Del Romano, who is from Italy and grew up competing at a high level in three sports—volleyball, beach volleyball, and swimming.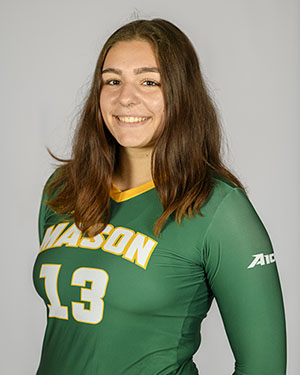 Alessia Del Romano
"I was focusing mostly on fundraising donations and events and competition for USA Boccia," Del Romano said. "I did those two reports. We all collaborated on a presentation on the sources of revenue report we were doing this research for, but those two were my main focus through the summer.
"It was definitely challenging to find ways to fundraise during these times," Del Romano added. "Our main focus was our online strategies. We had to be more present on social media to make sure that our members would keep up with us. We have to make sure people see we're still out there right now, at least online."
Del Romano said she stayed in the United States this summer instead of returning home to Italy due to the pandemic, and found a part of her apartment to use consistently as a dedicated workspace.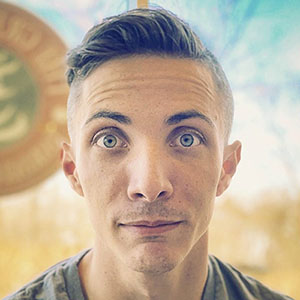 James Finnegan
Meanwhile, Finnegan, a 30-year-old from Northern Virginia finishing up a bachelor's degree in parks and outdoor recreation following his military service, also conducted research work as well as social media management with the group this summer. He said he was glad to be able to find an organization that matched his values.
"I was fascinated with USA Boccia's organizational goals," Finnegan said. "Their primary goal is the inclusivity and support given to the members who participate in the sport. Because this is a non-profit sport organization, they are focused on providing the safest, most inclusive, most supported network to play boccia in the United States."
"All three interns were really excellent," said McCann, executive director of USA Boccia. "Their chemistry worked really well. They're all in three different places in their academic careers, but I think they benefitted working as a team. One of the things you learn in amateur sports is there's so much to do and so little time to do it, and you've got to have great teamwork and coordination if you're going to be successful."
McCann, who has an extensive background in project management as well as sports, said he's looking forward to having Mason interns on his team again this fall. A longtime friend of both
Laurence Chalip
, interim director of the School of Sport, Recreation, and Tourism Management, and
Chris Green
, academic program co-coordinator of the Sport and Recreation Studies program, McCann said the team's work is all part of a bigger mission for USA Boccia. "We want to provide more opportunities for people who have disabilities to play the game of boccia," McCann said. "That's going to be one of our top priorities going forward over the next few years—to raise awareness of the sport. There really are not enough opportunities for people with severe disabilities, like our athletes have, to compete in a sport at a high level. We're trying to help with that need."