College of Education and Human Development
Generous Endowment
Beck Foundation bestows faculty fellowship gift to support School of Kinesiology, Patriot Performance Lab and Mason athletic department.
FAIRFAX, Va. — The College of Education and Human Development (CEHD) at George Mason University announced Wednesday that the Beck Foundation will gift a generous faculty fellowship for the Patriot Performance Lab.
This year's recipient of the faculty fellowship is School of Kinesiology Professor Margaret Jones. A nationally renowned expert in human performance and athlete health, Jones has overseen the Patriot Performance Lab and served as a sport scientist in the Frank Pettrone Center for Sports Performance since joining Mason and CEHD in 2010.
"The College of Education and Human Development is very grateful to the Beck Foundation for its generosity in supporting the formation of the Patriot Performance Lab and for their support of Professor of Kinesiology Margaret Jones in her role as the lab's director," Dean Mark Ginsberg said. "CEHD and the Mason athletic department enjoy a great relationship, and our partnership in the Patriot Performance Lab provides additional opportunities for collaboration as our kinesiology faculty and students support Mason's student-athletes and our university's intercollegiate athletics program."
The endowment creates a faculty fellowship that will benefit the university's athletic department and the Patriot Performance Lab, which is located inside the George Mason Field House and is available to the university's more than 400 student-athletes.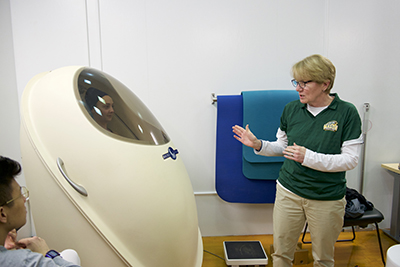 "The Beck Foundation is extremely proud of the opportunity to sponsor such an impactful and collaborative translational research fellowship," said Debi Beck Corbatto of the Beck Foundation. "Faculty fellowships such as this one will not only impact the sponsored faculty member but also undergraduate and graduate students, student-athletes, coaches, occupational athletes, and many others in our community. It is our hope that gifts like these are inspirational to others in extending philanthropy into the research endeavors at George Mason University."
Jones, a member of the National Strength and Conditioning Association's Board of Directors, collaborates with several divisions within George Mason Athletics, including strength and conditioning, athletic training, and the department's registered sport dietician.
Jones and those affiliated with the Patriot Performance Lab have published a plethora of research studies over the last decade. The lab's research ranges from body composition to sport nutrition to how certain strength training techniques can positively or negatively affect competitive performance.
In January, Jones contributed to a study with College of Health and Human Services (CHHS) Assistant Professor Sina Gallo, an affiliate of the Patriot Performance Lab; several graduate students in CHHS and CEHD; and Andrew Jagim at the Mayo Clinic that found vitamin D deficiencies in athletes who played indoor sports, especially in African Americans. The study helped lead to a sponsorship from NOW Foods for vitamin D supplements for the George Mason men's and women's basketball teams for the 2018–19 school year.
"The contributions of Dr. Margaret Jones and her sport performance staff have created exciting opportunities for Mason Athletics," Assistant Vice President/Director of Athletics Brad Edwards said. "The line of research that Dr. Jones conducts in our sports lab provides our Patriot student-athletes with the knowledge and platform to maximize sport performance through scientifically proven methods of training."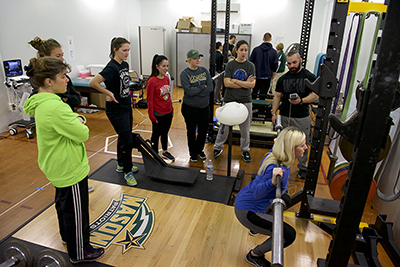 Recently, Jones, several graduate students, and members of the strength and conditioning staff worked closely with the women's basketball, men's soccer, and women's volleyball teams to conduct research that uses technology to monitor athletes' workload.
Utilizing wearable heart rate monitors and GPS devices, Jones and her staff can track heart rate, distance run, and the number of jumps, among other metrics. These programs track the internal and external loads endured by the athletes. In addition, the lab utilizes daily self-assessment reports the student-athletes fill out to identify variances in sleep, diet, or academic or personal stress.
"Technology is just driving the field," Jones said. "This starts to give us an idea about how to individualize training. If we say, 'everybody run six miles,' I may not know if I'm pushing you at a level enough to help condition you, to over-train you, or not to give you any stimulus unless I have this information.
"I think the fellowship is going to be a wonderful thing for everybody. It benefits athletics because it allows us to continue our line of work where we study athlete health and performance and ways to hopefully improve that. It affords opportunities for our graduate students to get involved in sport science research. I have several who work with me, and it gives them an opportunity to be exposed to these kinds of things. It gives me a chance to do something I really enjoy and ask questions I'm really interested in—and hopefully find answers—and further the sport performance field."
About the College of Education and Human Development
The College of Education and Human Development (CEHD) inspires undergraduate and graduate students to promote learning and development across the life span. Innovative, inclusive, and cutting-edge, the college and its three schools prepare professionals who improve lives and make a difference for our community and for the world. The college is a nationally recognized leader in educator preparation, special education, counseling and school leadership, prides itself in far-reaching expertise that includes sport management, human performance, athletic training, recreation management, tourism and events management, and is home to 11 centers engaged in groundbreaking research.
About The Beck Foundation
In addition to providing help to America's wounded veterans, the Beck Foundation also supports various universities and educational institutions, focusing support more specifically through entrepreneurial developments. Through these developments, the Foundation has been able to support a number of programs: Athletics, Visual and Performing Arts, Engineering, Entrepreneurship and Business Development, and Sports Medicine and Athletic Training. The Beck Foundation has and continues to endow a number of scholarships in the respective fields of study.