College of Education and Human Development
For Robert Nay, a Winding Career Comes into Focus at Mason
By Jon Wolper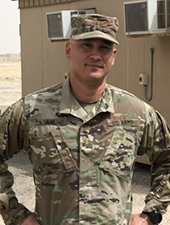 Second Lt. Robert Nay
For some people, finding the perfect career path is easy. For others, like Robert Nay, things twist and turn.
"If you asked me if I wanted to be a teacher or even a commissioned officer 10 years ago, I would not [have been] able to give you a response," Nay says.
In spring 2018, Nay graduated from George Mason University with a health and physical education degree and then entered active duty in the Army as a human resources officer. Now, he is deployed in Kuwait, serving as the officer in charge and platoon leader of Inbound Theater Gateway Operations. That means he's responsible for processing all service members and civilians entering the Army's central command.
It was only recently that his career path began to come into focus—and that Nay realized how he could blend his education and professional experience to help future students.
"I spent most of [my] 20s undecided on my post-military career, and the one thing I learned from some of my mentors is seize any opportunity that presents itself," Nay says. "At Mason I had classmates convince me to do ROTC, my wife said I would make a great teacher, and my mentors said I would make a great leader. Mason provided these opportunities to me and has made me a better person overall."
Before that realization, though, Nay walked down some very different career paths. Before his military service, he studied culinary arts at a Le Cordon Bleu institute and worked as a line cook around Northern Virginia. Since entering the military, he has been deployed and stationed around the world, from Turkey, to Guam to Italy. He spent more than six years in the Air Force before attending Mason and was a part of the Virginia Army National Guard while a student.
His road to becoming a teacher, though, started while he was studying kinesiology at Mason. That's when he became interested in the health and physical education degree.
"I felt like as a teacher I could make an impact on young students where they can make sound decisions in physical fitness, health, sports and other recreational activities," Nay says.
Now a graduate of the program, Nay is hoping to use what he learned at Mason in the Army and beyond. He hopes to take advantage of teaching opportunities in the Army as his rank progresses, such as becoming an ROTC or West Point instructor. Meanwhile, he has been accepted to Kansas State University to pursue a master's degree in educational leadership.
When he retires from the military, he plans to use his education degrees to be a health and physical education teacher at a public or private school. After that, he'd like to become a principal, so he can be an effective leader for teachers.
It's a long way away from Le Cordon Bleu, but it marks a career that has come fully into focus.
"My career has made a lot of twists and turns," Nay says, "but my end state is being a teacher by using all the experience I learned being a leader in the military."