College of Education and Human Development
Excellence in Online Teaching
By Greg Sullivan
In an era when the skill of online teaching is more important than ever, College of Education and Human Development Associate Professor Yoosun Chung was recognized recently by George Mason University as someone at the forefront of the craft.
Chung, who received both her bachelor's degree and PhD from Mason, was named a 2020 Online Teaching Excellence Award winner by the university. After starting her full-time career at Mason as a research professor in 2007, Chung now serves as an associate professor in assistive and special education technology and researches individuals who use augmentative and alternative communication devices, individuals with disabilities, and individuals who, like her, have cerebral palsy.
Unlike for many around the country, online teaching isn't something new to Chung and her Mason Assistive Technology program colleagues, who brought their program fully online in 2014 to reach more students. Chung took some time to share lessons she's learned while teaching virtually and tells how those newer to online teaching can also achieve success in virtual settings.
First off, how do you personally approach teaching in an online classroom?
All of my online courses are asynchronous, which means that students do not have to be online at the same time. Students log in at any time to read class materials and participate in discussion boards. I design my online courses in a way that they are divided into several learning modules. Within each module, I create a set of learning activities, including course readings, website reviews, and personal reflections. Students are expected to summarize, analyze, evaluate, and reflect on the presented course materials. They post their reflections to the discussion board and are encouraged to interact with at least one classmate in each discussion thread because interaction with classmates is an important aspect of any class.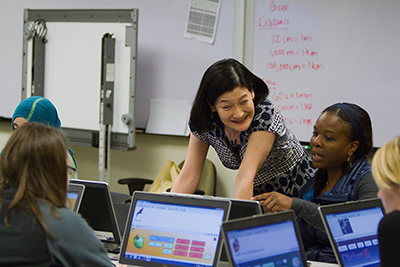 I've also used discussion board activities to make my online courses more engaging and interactive, as well. I consider the discussion board activities in my online courses a great substitute for class discussion in a face-to-face class, which is one of the most important components of an in-person course. I carefully design my discussion board activities that encourage students' critical or creative thinking. As we began working at improving our online program in recent years, we have also worked hard to make it as accessible as possible to all learners.
More teachers and professors suddenly find themselves teaching online much more or for the very first time due to the coronavirus pandemic. Is there a key that you've found to engaging students in an online format?
Instructor presence and interactivity is especially critical when you teach online.
Due to the nature of assistive technology (AT) courses, each AT faculty member is constantly concerned with how to develop our courses to be interactive and how to incorporate hands-on parts into the online environment.
Because courses are online, I am not able to show my welcoming attitude and smile to my students by simply showing up. A strategy I've used to show my presence is that I intentionally make the Blackboard course show a welcome page when students go into their course. This page includes my smiling face, and one of my former students said that seeing my smiling face every time she logged onto the course also made her smile and feel welcomed. Another strategy I've used is sending out a welcome email several days before the actual class begins. In addition, I send out a course-open notification email right after I open the course on Blackboard. I send at least a couple of emails prior to starting the course every semester, hoping that my online students feel welcomed and are ready to take my classes. I also post a welcome video that is narrated using my augmentative and alternative communication (AAC) on the orientation module or on the welcome page. At the very end of the video, I include a very short video of me, saying in my own voice, "Thank you. Bye." I thought that showing my smile and some small talk using my own voice could help my students get an early sense of who I am.
How do you choose to approach assessment and feedback?
To handle that, I've provided a scoring rubric sheet for each assignment and have given a grade based on the scoring rubric sheet with my comments for each criterion. I always try to give meaningful and helpful feedback to each student, for which my students often express their appreciation, but at the same time, it is a time-consuming job for me.
In online classes, I think that it's difficult for an instructor to perform formative assessments of students' work, compared to face-to-face classes. For example, in my face-to-face EDSE 517 class, I gathered the lab activity sheets each week to see the students' comprehension of the possible AT solutions for individuals with various disabilities. During lab activity time, I walk around the room to see how students are doing as well as to answer any questions they have while exploring the technology. I can perform formative assessments of my students' work through these activities in my face-to-face classes.
In the online environment, however, I've provided a list of small activities each week in my online classes, in addition to the major assignments, to assess my students' understanding of a certain topic in a formative way. As a result, this gives me a huge amount of grading to work on each week. I came up with the idea, as a possible solution to grading students' work in a timely manner, to find a chunk of time during a specific week of the day for grading/commenting/suggesting. For me, I set Tuesdays as my grading day and have tried to stick with it as much as I can.
Do you have any other tips for those newer to online teaching? Are there specific things these teachers should keep in mind?
Yes. Always show respect, accessibility, and encouragement for your students.
Since we are not meeting in person, it is important that instructors make students feel they connect with their instructor throughout the semester. I respect every student, and I'd like to think that I've never ignored any student's questions or concerns. In addition, I always try to encourage my students to actively participate in class activities by sending reminders and by describing the activity in a friendly way.
What was it like to be recognized with this new award for online teaching?
I am deeply pleased and honored to receive this award. The moment I saw the congratulations email, I screamed with joy and my daughter heard and had to ask if I was OK.
I am one of the minorities of the minorities of the minorities among Mason's faculty members. First, I am not a native English speaker. I came to America to study abroad after I graduated from high school in Korea. Secondly, I am a person with disabilities. Lastly, I use my communication system (i.e., AAC) to teach students in class and online. Due to these facts I just mentioned, I am sure that I have invested much more time and effort than other professors who are native English speakers and are without disabilities. I strongly feel that my sincere teaching effort has been paid back, so I am very thrilled. To me, teaching is challenging but always exciting and rewarding.
Any time I'm interviewed is also a great opportunity for me to share with the Mason community more awareness of both the importance of AT and lives of individuals with disabilities. I hope to do my part to help the Mason community understand that each person is unique and has different abilities to fulfill his or her everyday life, and that no judgment is necessary to other individuals regardless of whether or not they have disabilities.