College of Education and Human Development
Dance and Career Moves
By Greg Sullivan
As a certified athletic trainer, College of Education and Human Development student Victoria Fauntroy is used to the common assumption that she must primarily provide care only for traditional athletes.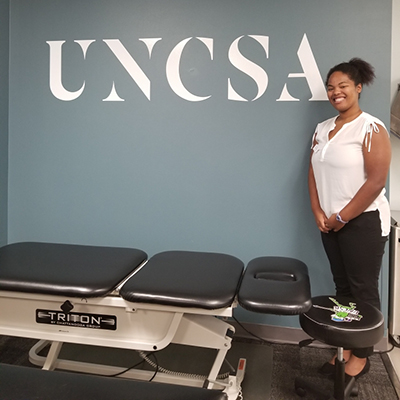 The second-year master's student in Mason's Exercise, Fitness, & Health Promotion program, who also did her undergraduate work at Mason, said that at some point it will probably become common knowledge that athletic trainers can make a big difference in the field of dance, too.
"Dancers devote their lives to their work, they train hard for this, and they deserve medical care," Fauntroy said. "I want them out there as long as they can be. And I want them to have long careers just like any football or basketball player."
Fauntroy explains to the dancers she provides care for, that she understands the grueling, physical nature of their art form.
"My view is a little unique because I've been dancing for 17 years and I understand how hard it is," said Fauntroy, who grew up in Northern Virginia and currently dances and is on the faculty at Crossroads School of the Arts in Herndon, Virginia. This is in addition to her studies and research work at Mason. "If you ever watch ballet or contemporary modern dance, a lot of the dance moves are not easy on the body. Especially in ballet, they're forcing their bodies into these unnatural positions. They have to be flexible, have their legs go up to their ears."
This past July, Fauntroy spent several days at the University of North Carolina School of the Arts (UNCSA) in Winston-Salem, North Carolina working with its contemporary dance and classical ballet dancers at the elite conservatory's summer intensives. UNCSA is a research collaborator with Fauntroy and Professor Jatin Ambegaonkar, who co-directs the Sports Medicine Assessment Research and Testing (S.M.A.R.T.) Laboratory at Mason. The two universities are part of a group called the SHARE (Supporting Healthy Arts Research) Consortium, which collects research data to improve health for college performing artists like dancers. Ambegaonkar helped set up the clinical assignment internship for Fauntroy.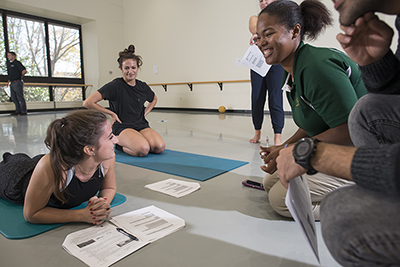 UNCSA has undergraduate and graduate students as well as high school students on its campus. While there, Fauntroy served as an athletic trainer for the dancers who put in long days, and she worked alongside the school's staff athletic trainers to learn on the job.
The experience was crucial; Fauntroy had previously had a chance to work with Mason dancers for one of her practicum experiences during her undergraduate work, but this was another chance to work with a range of elite dancers in a clinical capacity. It's the kind of work Fauntroy said she'd like to do for a career once she graduates.
"I hadn't been able to work with dancers in clinical work in a really long time," Fauntroy said. "And it was great to be able to do that again."
Typical daily duties included evaluating, treating, and documenting injuries; refilling the injury ice chest; filling the cold tub for ice baths later in the day; and cleaning the equipment at the end of the day. In addition, Fauntroy was able to observe various classes during the intensive, including classical and contemporary repertoire and classical and contemporary technique classes. The medical staff also taught her different manual techniques that they use regularly in their practice.
"This internship challenged me to think as a clinician, which is different than what I'm used to as a researcher," Fauntroy said. "In addition to evaluating the patient and coming up with a diagnosis, I needed to determine the course of treatment which would allow the dancer to participate in the intensive as much as possible. Most of the students were both mentally and physically exhausted from the long days and were just trying to make it to the end of the intensive without major injuries."
Fauntroy said that she has received a wide range of experience at Mason. As an undergraduate, she completed practicum assignments at three different partner Virginia high school athletic departments. She also participated in a practicum with the Georgetown University Athletics Department in addition to her collegiate dance work with Mason dancers. In 2018, she served as a nationally certified athletic trainer at a local youth football league, which was her first job operating on her own Virginia state license.
She's also a big believer in research informing her work as a clinician. Fauntroy said that already having her license provided a big boost in pursuing her master's degree.
"I've taken a biomechanics class. I've taken a strength and conditioning class. I've taken statistics classes that are really going to help me later on," Fauntroy said. "And the research work with the S.M.A.R.T. Lab has been really eye-opening. I never realized how much research could impact me on top of being a clinician."
As she gets set to graduate with her master's degree in May, she's looking for the best opportunity to provide care for dancers, whether that's in a university setting or possibly with a studio.
Fauntroy said that it's important for her to note that while dance, just like any sport, has some risk for injury, it also has incredible health benefits, in addition to being a joy for audiences to watch.
"I love the art form," Fauntroy said. "I think our bodies were made to move, and dance is a great way to do that."