College of Education and Human Development
Full Circle
By Greg Sullivan
When College of Education and Human Development graduate student and full-time Alexandria schoolteacher Latasha Sturgis was recognized recently as Teacher of the Year at John Adams Early Childhood Center, she hadn't actually travelled far (literally) in her career.
Indeed, Sturgis attended elementary school herself in the very same building.
But, in other ways, the 41-year-old preschool special educator and soon-to-be graduate of Mason's Early Childhood Education program with a master's degree in early childhood special education has been on quite a career journey.
"It's a great feeling to know that people could see that I put in the work and the love," Sturgis said. "The recognition meant someone stopped and noticed."
An Alexandria native ("Once a Titan, Always a Titan," as she says, referring to her high school alma mater, T.C. Williams High), Sturgis is a mother with children ranging in age from a recent college graduate to preschool. Her youngest, Aiden, the preschooler, is a student now in the classroom next door to hers.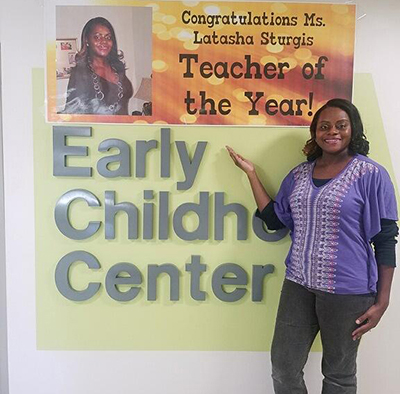 "I was born and raised here. I know people in the churches. Just having a relationship with so many people helped me do this kind of work," Sturgis said.
To say Sturgis is deeply invested in her community's education is something of an understatement.
She grew up in the neighborhood babysitting kids and discovered that working with young children could be her calling. She would later work at The Campagna Center, a not-for-profit early childhood center in Alexandria, working her way up to site director before stepping away after her second child, Avery, was born.
When it was time to go back to work, she chose John Adams. The school is a little different from when she was there, Sturgis said, extending just through fifth grade now, instead of sixth. And an early childhood area, where she works, is a part of the same campus. There, she works with 3- to 5-years-old on aspects such as social skills, fine motor skills, cognitive development, and gross motor skills.
When Sturgis returned to John Adams as a teacher, it was as a paraprofessional at first. It helped that there were six teachers who were still there from back when she was still a student.
That made her workplace "immediately feel like a home," she said. Although she said they've all since retired in the past few years.
Sturgis said she knew when she was a paraprofessional that she wanted to eventually earn her bachelor's degree and quickly was able to confirm that early childhood and special education were both the right concentration areas for her.
"I felt I was drawn to special education," Sturgis said. "When I first started [at John Adams]as a paraprofessional, I was working with students with severe disabilities who weren't talking and had very severe needs, and by the end of the year, some of them were then talking and walking. I think witnessing that process over the course of a year drew me to want to pursue the special education part of teaching."
More than two decades into a professional career working with young children, Sturgis has received two associate degrees from Northern Virginia Community College, completed her bachelor's degree in individualized studies in diverse learners in early childhood education from Mason in 2017, and is set to complete her master's degree this May, all while being busy at home.
"It was definitely challenging—to be my best at home and at school and be a teacher at the same time was pretty intense," she said. "I believe my greatest strength was my family."
Sturgis said her professors at Mason seemed to have a good understanding of what many of their students faced outside of the classroom, which made things more doable.
"The early childhood professors were human first," Sturgis said. "They understood that most of the students were working parents and had full-time jobs. There were opportunities for you to be flexible with your schedule. They were realistic expectations and time was granted for you to complete the assignments. And I wouldn't have been able to do it if there weren't night classes."
In addition to truly caring for her students, Sturgis is known for going the extra mile. She does in-home visits with her students' families to help build bonds. She recently asked for permission from her principal to do some further in-home visiting to help students overcome some additional challenges.
As part of her master's degree, Sturgis has also been working one-on-one with Mason professor Kimberly Sopko, who has been helping Sturgis take her teaching to the next level.
"Latasha was a student in my course over a year ago, and she was often quiet and a little reserved," Sopko said. "When she did speak in class, her passion, commitment, and desire to learn and excel as a teacher was prominent. As her internship supervisor now, I'm honored to witness her creative, caring, and dedicated teaching of preschoolers with or without disabilities as she implements best practices and applies what she's learned in the master's program. She is a bright spot in anyone's day, and her students cherish her."
When it comes to Sturgis's students and how she feels about her town and school, her feelings are the same.
"Every year they grow and improve so much," Sturgis said. "Every year you learn something new, and every year these kids continue to amaze me."