College of Education and Human Development
CEHD Hosts Summer Partner Summit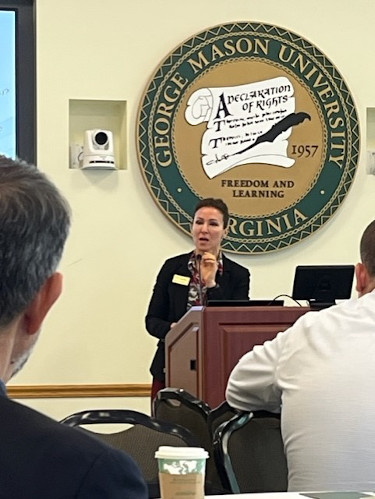 CEHD Dean Ingrid Guerra López welcomes the Summit attendees and shares her vision for the College and for the partnership.
The School of Education within the College of Education and Human Development (CEHD) at George Mason University recently hosted a Summer Partner Summit with area school division leadership.
CEHD's goal is to ultimately form a Research Practice Partnership, representing "a collaborative approach to leveraging our strengths to address shared challenges across Northern Virginia and beyond." This will be an impact-driven partnership seeking to support divisions in addressing their most pressing challenges.
Led by CEHD Dean Ingrid Guerra-López and School of Education Director Audra Parker, the Partner Summit included education and administration leaders from all major area school divisions, including Fairfax County, Loudoun County, Arlington County, Prince William County, Alexandria City, and others.
Also joining the Summit were several leading CEHD faculty members, bringing extensive knowledge and perspectives in education leadership, policy, and prior experience in administration at the school division level.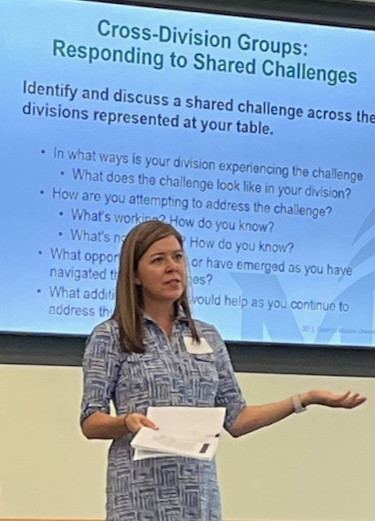 School of Education Director Audra Parker facilitates a discussion on shared challenges across Virginia Region 4 divisions.
Mark Ginsberg, former CEHD Dean and current Provost and Executive Vice President of Mason, welcomed our partners during a working lunch session, while Dean Guerra-López led a lively and engaging discussion on key trends and shared challenges.
Work sessions and roundtables throughout the day helped identify several key opportunities for collaboration which will be part of ongoing discussions and workstreams moving forward, including:
Educator well-being, and proactively addressing the very real threats to educator well-being and longevity.
Leadership development, including how we can ensure that our leaders are supported and prepared for their road ahead in education.
Measuring effectiveness of our efforts, and ensuring that our time is best spent against the highest yield initiatives.
Creating a compelling narrative to inspire pathways for current and future educators, and to blunt or dilute the negative narratives which have become more commonplace.
The next gathering of this group will be October 4, and the internal team at CEHD is using this time to continue outreach to our partners, and to plan for how to best operationalize our own efforts to bring as much value as possible to this exciting and promising partnership.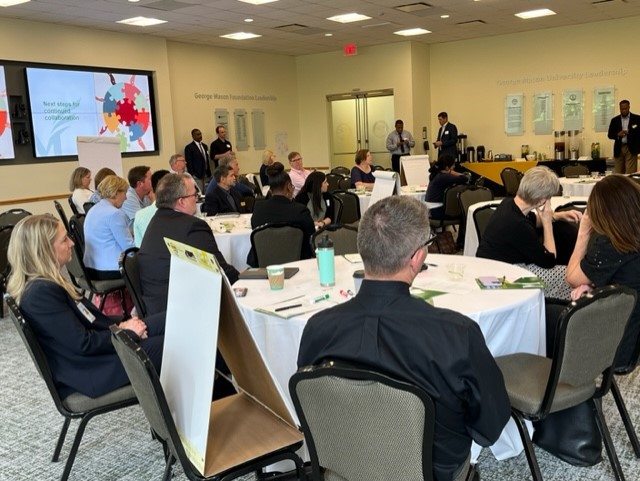 More than 30 leaders in education and administration took part in dynamic and focused discussions throughout the day.