College of Education and Human Development
Big League Jobs
By Greg Sullivan
Former George Mason baseball standout Brady Acker can't seem to get out of the limelight of sports.
While his bat helped put him in a good position, it has been his Mason education and his work ethic that brought the Maryland native to the highest level of sports so swiftly.
With a fresh master's degree in hand from Mason and a graduate internship with the National Football League's Baltimore Ravens under his belt, which fulfilled a course requirement, the 23-year-old Acker has just joined the Boston Red Sox baseball organization, working full time with its client services team.
Graduating with his bachelor's degree in health, fitness, and recreation resources through the College of Education and Human Development back in 2018 with another year of athletic eligibility remaining, Acker opted to play one final year as an outfielder with Mason while getting his master's degree through Mason's Sport and Recreation Studies BAM (accelerated bachelor's/master's degree) program with a concentration in sport management.
"I was very happy with my baseball playing career at Mason, and I thought it was a good time to move along to what's next with my academics," Acker said. "This [fifth year of eligibility] was my chance to go out on a high note with baseball, finish a good college career, and start that next chapter of my life."
Not just a good player on the diamond, Acker was always a solid student in his time at Mason, regularly making the Atlantic 10 Conference's academic honor roll.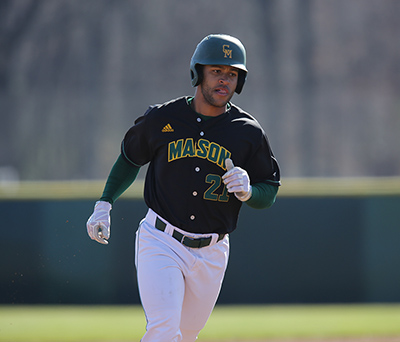 "For the baseball team, I was kind of the old guy my last year. The other players kind of looked to me for advice on who to talk to," said Acker, who was also named to the Atlantic 10 All-Conference Second Team in May after a strong season in which he batted just over .300 for the Patriots. "In my grad school classes, there were a few other BAM students like me, so there were some young students mixed in, but there weren't many still playing college sports."
Acker said he didn't know he'd wind up working now in Major League Baseball so early in his career, but it worked out that way.
During his undergrad years at Mason, where he also concentrated in Sport Management, Acker interned with Northern Virginia Community College's athletic department. There, he said he served unofficially as an assistant athletic director, helping the small athletic department do just about everything. Acker said he had a good boss who let him help with real tasks, and he loved how the role was hands-on and allowed him to learn.
Then, for his internship for his master's degree, he earned a spot with the Baltimore Ravens in the marketing department.
"I knew another Mason student who was an intern with the Ravens the year before," Acker said. "I applied and almost forgot about it when two or three months later I got an email saying I had an interview. I thought I wanted to go into professional sports down the line and maybe [work in] college athletics first, but I saw that this was an opportunity I shouldn't pass up."
Acker said his time with the Ravens reinforced the real-world emphasis he learned about in the classroom from Mason's professors and high-profile guest lecturers.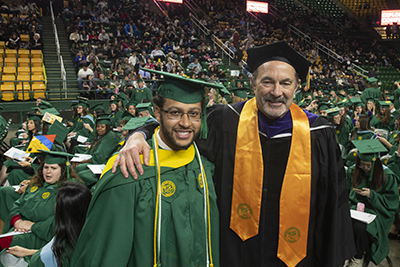 "We had a lot of professors and guests in our classes who would come in and speak and have been doing sports management in the field. That was awesome, hearing what everyone had to say and how they got to where they are," he said.
It was an exciting year for a busy marketing department with the Ravens having success on the field (going 14-2 and clinching a playoff spot while Acker worked there).
"In the community, everyone's loving the Ravens," said Acker, whose six-month internship ended in December just before the playoffs. "Yes, they've won championships before and have had a lot of winning seasons, but it's like a new buzz in the area. Everyone's hopping on this bandwagon with [quarterback] Lamar Jackson. It's kind of awesome to see it all unfold in front of me."
It's been a busy time. He went from the baseball season at George Mason straight into the internship in June. Now he has a new apartment and a job with the Red Sox, which started in early January.
Acker said he's excited about his new client services role, which he said can be different depending on the organization. He said that he worked alongside the client services team, at times, as a marketing intern with the Ravens and enjoyed doing activations at games and special events for client organizations. With the Red Sox, Acker said there's a small sales component with handling some contract renewals, but he'll mostly be managing existing multi-year accounts.
Acker said he's ready to dig in as the Red Sox play their first home series in early April. The other difference in roles, he said, are more game days in baseball, which he sees as a big plus.
He'll keep an eye on what the Ravens do on the field, but like most of his life, he now gets to be around baseball again in Boston.
"I love baseball," Acker said. "I played since I was 4 years old. I guess I can't get away from it. It's in my blood now."