Asian American and Pacific Islander Heritage Month
Asian American and Pacific Islander Heritage Month: Faculty Spotlight
Nikki Patriarca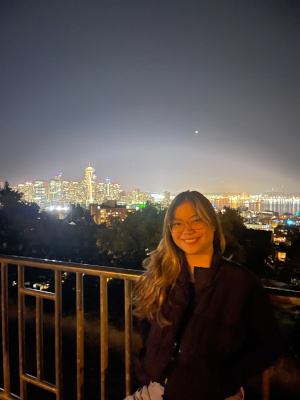 Nikki Patriarca is a storyteller. She knows this about herself, and it shows up in everything she does: her work, her service, and even the way she answers interview questions. Her interactions with people are filled with energetic stories told in a way that only Nikki could tell. The Office of Diversity and Inclusion (ODI) celebrates Asian American and Pacific Islander Heritage (AAPI) Month 2022 with our first ever student spotlight on Nikki Patriarca. You are already familiar with her work as the graphic design whiz behind all of ODI's communications.
Nikki grew up in the Philippines in a tightknit Catholic family and is still close with them today. She says that it's common for families to have close relationships, and even though it's not an obligation, many people financially support family members out of love and respect. Children are expected to grow up, get an education, and become engineers, doctors, or lawyers, or risk disappointing their parents. Nikki always planned to study counseling with the ultimate goal of being a trauma counselor for young adults. She is currently enrolled in the Counseling and Development program in CEHD with a specialization in School Counseling, and at the start of next semester, will transition to Health Informatics.
Nikki had three years of professional experience on her résumé before enrolling at Mason, but the professional accomplishment she's proudest of is being able to study abroad and being accepted to not one, but two Mason graduate programs. She recognizes that not everyone has the opportunity to study abroad. She never even saw herself leaving home to study abroad. She mentions that she has ADHD and leaving her support system behind was a challenge. However, she loves learning and wouldn't mind studying forever. On a personal note, she's also proud of having gotten most of her education for free from undergraduate to graduate school. She was a Fulbright scholar in the Philippines, and she speaks four languages. Her parents instilled in her the importance of hard work and education, and she continues to honor those values.
A mastermind of graphic design, Nikki is the creative force behind all of the ODI flyers, posters, photography, and social media posts. She personally believes in the work that ODI does, and she loves that she can be engaged in that work in an area where she thrives. She talks about seeing marketing materials about Mason's diversity not long after she arrived here. Her work with ODI has shown her that all the marketing is true, and Mason is who we say we are. We want people from minoritized groups to feel seen, and her job as a visual storyteller is to show all that we're doing to support these groups.
According to Nikki, AAPI Month is a great avenue to highlight people of the culture and their work, but also a time to raise concerns and address current events. We don't have to restrict our celebration of AAPI people and culture to the month of May. However, this month especially gives people who are not part of the AAPI culture opportunities to learn and try to overcome some of their ignorance. Nikki points out that as a storyteller, she notices acknowledgement of AAPI Heritage Month everywhere, such as on tv and in the media, so we can all take advantage of the resources that are available to us.
For other AAPI students, Nikki suggests being active at Mason. For example, she recommends engaging with Mason360 and subscribing to newsletters, which share a lot of ways that everyone can get involved. Opportunities may not land directly in front of you, so you have to be active in searching for them. Nikki would also tell her younger self, "Just keep on going. Believe in what your parents taught you."
While new experiences might be daunting, Nikki embraces the notion that there is "joy in new beginnings." Her work in helping to bring diversity and inclusion activities to life for our students, faculty, and staff gives her purpose. In addition to meeting wonderful people in her role with ODI, she finds pure joy in creating everything from scratch. Nikki, you're a pure joy to have as part of CEHD.