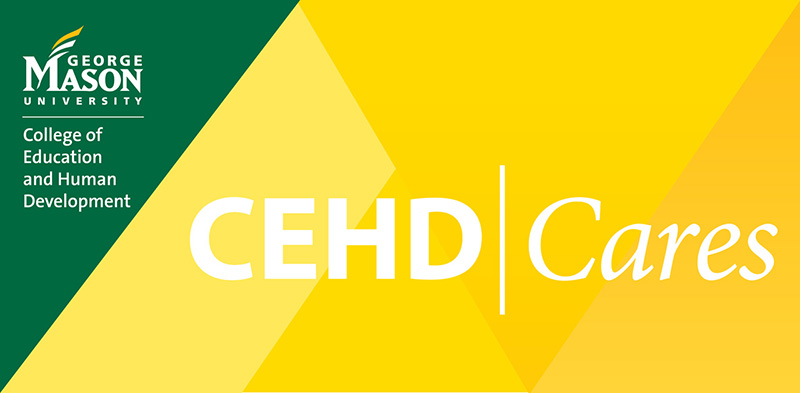 This unprecedented time of uncertainty has forced us into our homes as we all try to do our part to flatten the curve and stay safe. For many of us with children, the coronavirus outbreak brings along new challenges as we do our best to juggle the responsibilities of our careers and as parents, in addition to this new role as "teacher" at home. We empathize with you here at the College of Education and Human Development, as many of our faculty and staff have young children.
Resources for those seeking tutors or available to tutor
I want to hire (pay) a student tutor:
The College of Education and Human Development at George Mason University continues to proactively seek options to support our community in addressing the immediate needs of families for quality assistance with their children's educational needs and mitigating the learning loss for K-12 students due to the current national health crisis. At this time, we are working with school districts to identify schools and families in need to provide tutoring and facilitation of small-group learning through resources provided by non-profit partners. However, there are a number of for-profit or paid tutoring options on the market right now for families who are interested in finding a paid tutor. While Mason has no formal affiliation with any for-profit or paid tutoring option, we provide links to organizations in the following page, as a resource.
For interested Mason students and recent alumni – join us:
During this challenging time, there are many families all over the Northern Virginia area who need your help to mitigate the alarming learning gaps for K-12 underserved students due to the educational disruption of the COVID-19 Pandemic. If you are interested in providing tutoring or facilitating learning to families and children, and can spare a few hours a week, please contact us using this form.
---
Past Webinars
Understanding Adolescent Behaviors and Attitudes to Help Fight COVID
Dr. Nicole Beadles, Academic Program Coordinator, School Psychology, College of Education and Human Development, George Mason University
Dr. Amira Roess, Professor, Department of Global and Community Health, College of Health and Human Services, George Mason University
Wednesday, Dec. 16, Noon (EST)
Young people account for the majority of known COVID-19 infections but the elderly account for most of the deaths. How does this disparity between COVID infection rate and COVID mortality rates affect how adolescents think about the virus and how they approach public health measures such as mask-wearing and social distancing? Join experts as they discuss adolescent behavior and brain development and how adolescent brain development impacts their behaviors and attitudes related to the virus. The webinar will cover how to engage young people in fighting COVID-19 and explore concerns such as mental health and substance abuse related to the pandemic.
Transforming Learning Activities to Better Engage Students Online
Dr. Jered Borup, Learning Technologies in Schools
Tuesday, Nov. 17, 6 p.m. EST
Effective online teaching requires different strategies and skills than what are required for in-person teaching. If teachers are going to engage students' heads, hearts, and hands in an online environment they need to carefully change how they teach. In this webinar, we will share frameworks, strategies, and examples that will help teachers to transform their learning activities to better engage students online. Watch the webinar.
Personalizing Learning During Uncertain Times
Dr. Jered Borup, Learning Technologies in Schools
Wednesday, Oct. 21, 6 p.m. (EST)
Quality instruction is not one-size-fits-all. Instead, quality instruction allows students to personalize the time, place, pace, and path of their learning. Allowing their students to personalize their learning is important in any environment but it is especially important during uncertain times. In this presentation, we will share practical strategies and examples for personalizing students' learning online during the pandemic and beyond. Watch the webinar.
Dr. Jered Borup and Dr. Amira Roess
Thursday, September 3, 12 pm -1 pm ET
As K-12 students head back to school in the coming weeks, many families are exploring the pros and cons of "learning pods" or "bubbles." What should families take into consideration - from a health and a learning perspective - when deciding whether to pod or not? CEHD's Jered Borup and CHHS Professor Amira Roess discuss the advantages. Watch the webinar and view the learning pods insights (PDF).
Let's talk about race: Imperfect action is better than silence (Part Two)
Faculty of the Counseling Program
Wednesday, July 1, 11 a.m. (EST)
The Counseling program will focus on action steps in the second part of this series. They will discuss the ways in which teachers and faculty members can better support and engage with their students and colleagues. There will also be a focus on advocacy within our respective professions as well as at the state and national level. The webinar will conclude with tangible next steps and opportunities to continue supporting, connecting, learning, and acting for social justice. Watch the webinar.
Let's talk about race: Imperfect action is better than silence (Part One)
Faculty of the Counseling Program
Wednesday, June 24, 11 a.m. (EST)
The Counseling Program will discuss what to learn from #BlackLivesMatter to better inform our work with our colleagues and students. This webinar will explore awareness, address inequities, provide support to colleagues, students, communities and schools. The program welcomes all faculty interested in addressing issues of race and creating opportunities for continued dialogue and support. This is the first of a two-part series. The second webinar of the series will be announced at a later date. Watch the webinar.
Engage and Inspire: Reading with Your Elementary Children
Dr. Allison Ward Parsons
Monday, June 8, Noon (EST)
Dr. Allison Ward Parsons will share simple tips to help families extend and maintain elementary students' literacy skills over the summer and beyond. This webinar will begin with ideas to engage children in a variety of books, followed by easy at-home activities to build fluency and comprehension. Watch the webinar.
Exercise and Well-Being Tips
Dr. Debra Stroiney, PhD
Wednesday, June 3, 1 p.m.
Dr. Debra Stroiney will focus on the importance of movement and exercise on health and well-being. She will outline simple at-home workouts that can be completed and will go through one of the workouts as a virtual fitness class. Watch the webinar or view the powerpoint.
Social and Emotional Development for Children and Adults
Dr. Elizabeth DeMulder, PhD
Friday, May 29, 1 p.m.
Dr. Elizabeth DeMulder will conduct a webinar on children's social and emotional development and tips for ways to support them during the time of the pandemic. The session will also feature social and emotional health and tips for adults. Watch the webinar here.
Creating Predictability in an Unpredictable Time for Children with Disabilities
Dr. Jodi Duke, PhD
Wednesday, May 27, 1 p.m.
Dr. Jodi Duke will hold a webinar to offer tips for structure, routine and other strategies for families and teachers of students with disabilities. Watch the webinar here.
How Children Learn: Feeling, Connecting, Questioning, and Interacting
Drs. Stephanie Dodman and Nancy Holincheck, PhDs
Friday, May 22, 1 p.m.
Drs. Stephanie Dodman and Nancy Holincheck will share key principles of learning and offer specific at-home activities that represent each principle. This webinar will offer a variety of ways to see how what you are already doing is important to your child's learning and offer you some new ways to think about everyday life as academic learning opportunities. Watch the webinar here.
Engaging Children Through Wonder and Science
Dr. Andy Gilbert, PhD
Wednesday, May 20, 1 p.m.
Dr. Andy Gilbert will host a webinar that provides concrete ways to get kids and adults alike to notice and engage with the natural world as a means to investigate possible answers, set up possible experiments or lead to more wonderings. This will focus on using elements of wonder to notice, sketch and journal as a means to build wonder-filled discussions with their kids—and in some cases for adults to rekindle their own wonders. Watch the webinar here.
Coping with the Crisis: Advice from Counseling Experts
Drs. Tori Stone, Shekila Melchior, and Stephanie Dailey, PhDs
Thursday, May 14, 1 p.m.
Our trio of experts from the Counseling program will provide school and community counseling resources and strategies for parents, teachers and their children on how to cope during the crisis.
Tips for Maintaining Self-Care
Dr. Marjorie Haley, PhD
Tuesday, May 12, 1 p.m.
Dr. Marjorie Haley will conduct a webinar for families, including parents and teenaged children caring for younger siblings, on ways to maintain self-care while at home during the pandemic. Dr. Haley will suggest ways to take care of ourselves, including use humor, staying active outside and inside and making sure we stay connected with others.
Supporting Young Children at Home
Dr. Christan Coogle, PhD, and Clarissa Wade, Graduate Research Assistant
Thursday, May 7, 1 p.m.
Dr. Christan Coogle will offer a webinar for families and/or educators and/or service providers who are supporting the development of young children, including those with special needs, at home. This will include how to use everyday activities and routines as learning opportunities aligned with IEP (Individualized Education Plan) goals or IFSP (Individualized Family Service Plan) outcomes.