Faculty and Students Continue to Make an Impression at CIES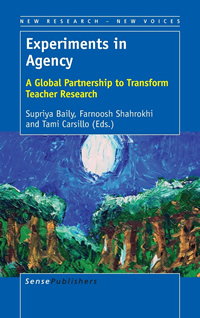 Faculty members and graduate students from the College of Education and Human Development (CEHD) at George Mason University made an impression at their recent attendance of the Comparative and International Education Society (CIES) conference. The 61st annual meeting was held in Atlanta, Georgia on March 5-9, 2017.
Within this year's theme, Problematizing (In)Equality: The Promise of Comparative and International Education, approximately 12 individuals from CEHD gave talks, presented papers, conducted workshops, chaired panels, and more. The scholarly conference, which attracts participants from more than 100 countries, is where research is shared regarding education issues as understood through a global and cross-cultural perspective.
Faculty and students at the Center of International Education released a new book at CIES "Experiments in Agency: A Global Partnership to Transform Teacher Research" edited by Supriya Baily, Farnoosh Shahrokhi and Tami Carsillo. Five students were at CIES to present their chapters including Heather Andrews, Tami Carsillo, Dana Moore, Lily Lopez-McGee, and Kelley Webb.
Faculty who presented included Dr. Supriya Baily, who also serves as CIES board member/treasurer and Dr.Rodney Hopson. Students who presented, served on panels, or otherwise participated in CIES activities include: Mary Beth Marklein, Anthony Ray, Sarah Hinshaw, John Knipe, Kristina Solum and GMU graduate, Maria Katradis.