Planned Gifts
George Mason University is located in one of the most important political and economic hubs in the world. As we prepare the leaders and innovators of tomorrow, Mason's influence will spread far beyond our campus. To ensure a bold, progressive education for future generations of students, please consider including a gift to Mason in your estate plan. We can help you find a gift that matches your family's need and charitable goals.
Popular Ways to Give
Gifts That Pay You Income
Other Smart Ways to Give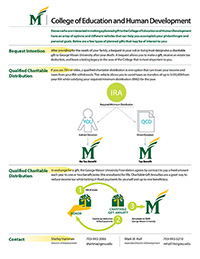 Click on the chart above for a detailed outline (PDF) of your planned giving options.
Contact Us

If you would like to make a gift to the College of Education and Human Development or if you have any questions, please contact:

Shirley Hartman, CFRE
Director of Advancement
shartma@gmu.edu
703-993-2005